'Coming Out of the Corona Crab & Q' event slated for Sept. 16
9/23/2021, 6 p.m.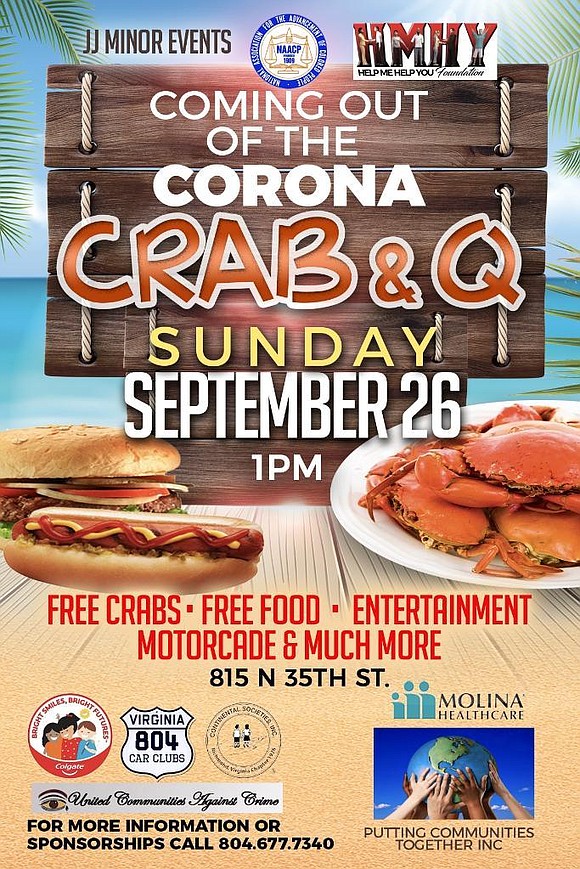 Free crabs and barbeque will be served Sunday, Sept. 26, at "Coming Out of the Corona Crab & Q," an event sponsored by several community organizations aimed at getting out the vote, stopping violence in the community, calling for new city schools to be built and getting people vaccinated against the coronavirus.
The event will be held 1 to 6 p.m. outside the Bacon Retirement Community, 815 N. 35th St.
Sponsors include James E. "JJ" Minor III, the Richmond Branch NAACP, the Help Me Help You Foundation, United Communities Against Crime, Molina Healthcare, Bon Secours Richmond, the Richmond, Va., chapter of the Continental Societies Inc. and the 804 Car Club.
Mr. Minor said members of the car club will ride through communities in Richmond and Henrico encouraging people to vote in the November elections and to stop the violence plaguing many communities.
The motorcade will return to the event, where free food, entertainment and flu and COVID-19 vaccines will be offered.
Several elected officials and community groups will be recognized with awards, including Gov. and Mrs. Ralph S. Northam, the Virginia Legislative Black Caucus, City Councilman Michael Jones and the Rev. Tyrone Nelson, the Varina District supervisor on the Henrico County Board of Supervisors.
Details: (804) 677-7340.