Hickory Hill and City Hall now open for early voting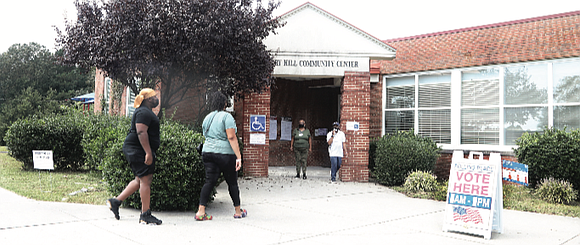 In-person early voting is now being offered at City Hall in Downtown and at the Hickory Hill Community Center in South Side, as well as the city Voter Registrar's Office in North Side.
The two satellite operations opened Tuesday, about three weeks earlier than the planned start date of Sunday, Oct. 17, in response to public outcry.
The Richmond Board of Elections voted 2-1 on Sept. 23 to authorize Richmond Voter Registrar Keith G. Balmer to begin offering early in-person voting at Hickory Hill Community Center, 3000 E. Belt Blvd., and City Hall, 900 E. Broad St., after receiving a new opinion from the state Attorney General's Office.
That opinion overrode an early opinion from the board's legal counsel, acting Deputy City Attorney Tabrica C. Rentz, which would have barred the early opening at the two sites.
The Electoral Board's two Democrats, James Nachman and Joyce K. Smith, voted to open the satellite centers early, while Republican C. Starlet Stevens opposed the early opening.
As the Free Press reported ahead of the board's meeting, Mr. Balmer had been prepared to seek board authorization to get early voting underway this week at City Hall and Hickory Hill until Ms. Rentz issued her opinion that a state law would prevent that action.
Early voting began in Richmond on Sept. 17 at the registrar's headquarters at 2134 W. Laburnum Ave. New state laws allow voters to begin casting ballots up to 45 days before the official Election Day, set for Tuesday, Nov. 2.
Voters will be filling the state's top offices, governor, lieutenant governor and attorney general, electing representatives to the Virginia House of Delegates and choosing local constitutional officers, including the sheriff, treasurer and commonwealth's attorney in Richmond.
Richmond voters also will be deciding whether to allow a casino and resort hotel to be developed on a 100-acre site in South Side.