Sen. Bernie Sanders helps celebrate Starbucks workers' unionization victory
George Copeland Jr. | 4/28/2022, 6 p.m.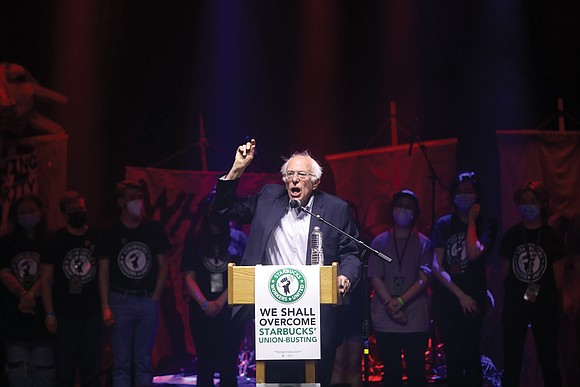 The sounds of music, community and solidarity filled the National Theater in Downtown for several hours Sunday as visitors from Virginia and beyond, including U.S. Sen. Bernie Sanders of Vermont, celebrated the unionization efforts of Starbucks employees in Richmond and nationally and ongoing work to improve labor conditions in the United States.
The event, called Unity Fest, was organized by Starbucks Workers United and attracted more than a hundred celebrants who enjoyed eight hours of live entertainment from multiple local bands.
Unity Fest came just days after seven Starbucks stores in Virginia voted to unionize their workplaces, including five in metro Richmond and two others in Leesburg and Falls Church in Northern Virginia. For Sen. Sanders, who offered keynote remarks, these efforts were part of a larger push nationwide to revive the spirit of collective bargaining and worker repre- sentation in the face of ongoing inequality.
"It is an honor for me to be here because you are extraordinary American heroes and heroines," Sen. Sanders said. "You are in the process, along with many others around this country, of standing up for justice, standing up for dignity and helping to revitalize the trade union movement in this country, which will give work- ers a seat at the table."
Starbucks employees and visitors from throughout Vir- ginia, New York, Colorado, North Carolina and elsewhere enjoyed the event's warm and communal atmosphere. Store organizers who backed the unionization effort also were recognized at the event.
"It was a crazy experience, honestly," said Iman Djehiche, a barista at the Starbucks store in Midlothian. "It was really wonderful to be able to meet partners from a bunch of different states."
Richmond area Starbucks employees, including Ms. Djehiche, are working on the salary, benefit and other changes they plan to present to corporate leadership when contract negotiations begin. No concrete timeline has been set yet for those negotiations.
Additional Starbucks stores across the country also are preparing to vote in the coming months on whether to join a union.
Sen. Sanders said it is evidence that the movement to unionize is "spreading like wildfire."
"I think the momentum of one store winning feeds into other stories winning," said Colin Cochran, a Starbucks worker from Buffalo, N.Y., who attended Sunday's celebration. "We've seen a lot of momentum building on our side right now, which is great."
"It also just brings a sense of hope to the community," said Grace Marvell, a Starbucks employee from Boone, N.C. "I know there are some other places in Boone that have messaged us and have also been interested in the unionization process."
Sen. Sanders said the work Starbucks employees have done so far in unionizing carries an influence far beyond a single company.
"What you are doing is helping to spark a political revolution in this country," Sen. Sanders told the crowd. "People all over this country admire your courage and your tenacity. They stand with you because you are doing exactly, in many ways, what they want to do as well."