When tenants don't pay, eviction is the price, says one landlord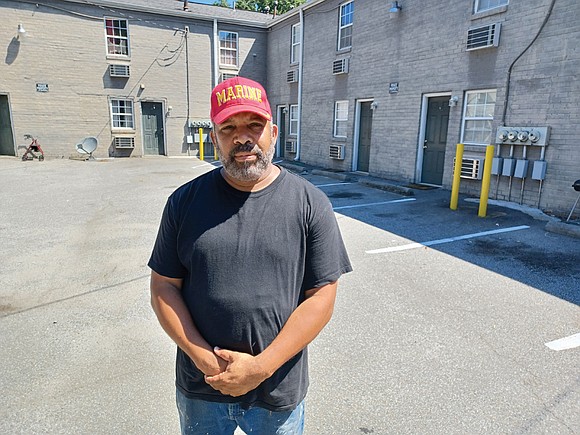 Landlords are in trouble, too, according to Bobby L. McIntosh, who is in charge of 109 units in Richmond through his company, Bayside Properties and Management.
"So many tenants are not paying rent," Mr. McIntosh said. Apartment owners are hard-pressed to cover the costs they face, from utility bills and maintenance to lawn care and their own loans from banks.
While evictions seem heartless, he said, owners and management firms often have no choice but to remove those who do not pay as agreed.
"When you have a number of tenants not paying, it just becomes unaffordable."
A transplanted New Yorker who has mastered construction and finance, Mr. McIntosh cites the example of the two largest complexes he manages for Tom and Jill Voekler of TJC Realty, a 28-unit complex at 401 E. Brookland Park Blvd. and 26-unit complex in the 4300 block of North Avenue.
He said renters in those complexes had a good record of paying. Before the pandemic hit in March 2020, both complexes might have had 1 percent of tenants who were in arrears, he said.
But after the pandemic arrived rental payments almost ceased from the majority of tenants, even though their rent of $750 to $850 a month for a two-bedroom unit is among the lowest in the area.
"We had people riding through neighborhood with signs and bullhorns telling people they didn't have to pay the rent, that the government would take care of it," he said. "I would go door to door to tell people that wasn't so, but they preferred to believe what they heard on the street. It was unbelievable."
He said the state rental assistance has picked up some of the arrearage after he and tenants got through the red tape, and also provided up to 90 days in forward payments.
But he said tenants did not resume paying rent after receiving the rent and only added to the backlog of rental debt, even though most were working.
So instead of collecting more than $17,000 a month in rents from each complex, he said he's been lucky to collect $5,000 a month and far less on many months. And until recently, courts were shut down and evictions barred by the state and federal governments.
"We couldn't get people out," he said. "We were stuck."
With the market for apartments remaining strong in Richmond, he said that he and the owners have no choice but to pursue evictions in order to find new tenants who will pay.
He said of the 21 occupied units on North Avenue, only two tenants have paid faithfully. "The rest have paid only dribs and drabs or paid nothing and have just huge amounts in arrears." He said that one tenant owes more than $20,000.
That means 19 families will face eviction, he said. Some he has to wait on, because those who receive rent relief cannot be evicted for 90 days.
Meanwhile of the 23 occupied units on East Brookland Park, at least 11 tenants are badly in arrears, he said, and will need to leave in order for that property to have a chance to regain financial stability.
The reason 10 units are unoccupied is that the tenants who were not paying rent trashed the units before they left, he added.
He said all of the units need $3,000 to $5,000 in repairs and fumigation, which "we cannot afford right now. If you are not collecting rent, you don't have the money."
Mr. McIntosh recalled one tenant who was in arrears calling to say her stove was broken and needed to be replaced with a new one. "How am I supposed to do that when you are not paying?" he said he responded.
He said he will replace the stove, which he said is a health and safety issue. But instead of buying new, he said he would buy one at a used appliance outlet to save money.
"People paint landlords as greedy money-grubbing fat cats sitting back and collecting rent," he said, even though the reality is that owning and managing apartments requires hard work.
He said there are costs that cannot be avoided, such as the annual property taxes and the loans that funded the purchase. He and the owners have had to go into their own pockets to try to keep the properties afloat. The shortage of funds from low rental collections has meant that his fee often can't be paid, he said, even though he has to pay his own maintenance staff.
Mr. McIntosh knows that keeping up with bills can be a challenge. He said he had to fight cancer for two years. He said he had 56 operations and other treatments before the cancer was in remission.
But he said during that fight to live, he always made sure his housing costs were covered. "I couldn't lose that," he said. "What I am seeing are too many people who believe that someone else will cover their rent.
"What will happen to them, I don't know. They may become homeless. But I can't worry about their problems. I already have plenty of my own."