George Wythe Principal Riddick T. Parker Jr. dies at 49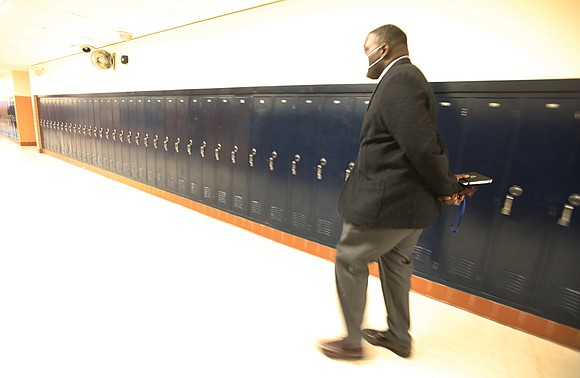 George Wythe High School in South Side will start a new school year Monday, Aug. 29, without the principal who was looking forward to starting his second year of helping students achieve success in school and in their future careers.
Riddick Thurston Parker Jr., a former pro football player who found his niche in education after leaving the gridiron, collapsed and died Friday, Aug. 19, 2022, while bicycling near his home in Chesterfield County. He was 49.
According to Pearson Funeral Home, services for Mr. Parker are scheduled for 12:30 p.m. Sunday, Aug. 28, at Greensville Elementary School, 1101 Sussex Drive, in Emporia.
Mr. Parker "was a Super Bowl champion who chose to dedicate his life to helping young people achieve their dreams. He gave his full heart and soul to the students at George Wythe," Jason Kamras, superintendent of Richmond Public Schools, stated in announcing his death. "His passing leaves a gaping hole in our heart."
Mr. Parker took over as principal at George Wythe in 2021 after serving two years as an assistant principal at Armstrong High School. He came to Richmond after nearly 16 years with the Baltimore City Public Schools.
Mr. Parker had ambitious goals for Wythe students, as he noted in a message posted on the school's website.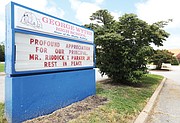 "As your principal," he stated, "I am committed to "leading Wythe love." This philosophy is informed by three aims: To provide for the needs of the whole student, to ensure rigorous instruction is delivered in every classroom every day and to ensure equity."
He stated that he envisioned Wythe being a school that "provides each student with challenging opportunities in a culture where creativity, respect, and authentic enthusiasm for learning exist, (a place) where all strive to be responsible, motivated citizens of strong character." He also wanted the school to be a location that "embraces a strong partnership with our diverse communities and one that promotes a passionate commitment to BULLDOG PRIDE."
Hundreds of tributes were posted on social media. Typical was one from Kara Lancaster-Gay, who wrote that Mr. Parker "was a caring, compassionate and committed educator who encouraged positivity and excellence in every endeavor."
Kandise Lucas, though, noted that Mr. Parker was less than super when it came to working with students with disabilities. Ms. Lucas, an advocate for children who are enrolled in special education, recalled that he stormed out of a session that focused on a student's IEP or individualized education plan.
Others, though, saw him as a big man with a big heart for students. He was "a talented role-model person who was genuinely interested in the future of our city and its students," David B. Robinson wrote.
Academics and football had been a main focus earlier in his life.
Born in Emporia, he grew up in Courtland near Southampton County and starred on the county high school football team, earning All-State honors n 1989.
Awarded a football scholarship to the University of North Carolina, he studied history and communications while playing for the Tarheels all four years before graduating in 1994.
Though undrafted in 1995, the determined defensive lineman initially signed as a free agent with the San Diego Chargers, but after being waived by the team, went on to play for the Rhein Fire in NFL Europe in 1996. His play there resulted in a contract with the Seattle Seahawks.
He played four seasons with Seattle, then moved to the New England Patriots where he received a Super Bowl ring after the team won Super Bowl XXXVI in 2002. He spent his final two seasons with the Baltimore Ravens.
After leaving football, he worked initially as a financial adviser for Legg Mason, then found his way to the Baltimore City Public Schools after earning a graduate certificate in school administration and supervision from Johns Hopkins University.
He joined Baltimore schools as an education consultant working on literacy development and graduation pathway programs and earned a master's degree in public administration from Walden University.
Survivors include his wife and children.