'Homegoing'
Dignitaries and ordinary people pay final tribute to A. Donald McEachin
Regina H. Boone | 12/8/2022, 6 p.m.
House Speaker Nancy Pelosi, Sen. Tim Kaine and Majority Whip for the U.S. House of Representatives James Clyburn were among dozens of dignitaries and distinguished guests who paid tribute to Congressman A. Donald McEachin during his funeral Wednesday at The Saint Paul's Baptist Church on Creighton Road in Henrico County.
In addition to a delegation of congressional members seated in eight rows at the front of the church, the approximately 600 people honoring Rep. McEachin also included family, friends and members of Ebenezer Baptist Church in Beaverdam. Ebenezer's pastor, Dr. John Kinney, gave the eulogy for his longtime friend and confidante, who once was his student at Virginia Union University's Samuel DeWitt Proctor School of Theology.
Rep. McEachin, who was re-elected to his fourth term in Congress to represent Virginia's 4th District on Nov. 8, died just 20 days later on Nov. 28 after a six-year battle with colorectal cancer at age 61.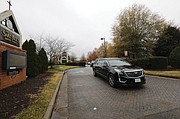 For more than two hours, the "homegoing" service, officiated by Dr. Lance Watson, Saint Paul's senior pastor, was filled with fond memories of the congressman.
U.S. Sen. Kaine delivered heartfelt remarks as he retraced his 40-year friendship with Rep. McEachin that began when they met in a Richmond law office that was once Rep. McEachin's and later became Sen. Kaine's. Both men were in their 20s, said Sen. Kaine while recalling the parallels in their lives and careers: Marrying powerful wives who had their own legal careers, in this case Richmond Commonwealth's Attorney Colette W. McEachin and Virginia's former Secretary of Education Anne Holton.
The two couples even have the same number of children — three each — and both men ultimately pursued their legal careers and politics.
In a surprising yet stirring moment, Sen. Kaine ended his remarks by singing a song that often is sung at his church. "I'm free ... my soul is resting, Praise the Lord Hallelujah, I'm free."
Rep. Clyburn, who not only is the late congressman's colleague but a longtime friend of the McEachin family, explained that Rep. McEachin's mother-in law, Gladys Wilson Wallace and his late wife, Emily Clyburn, grew up together in Moncks Corner, S.C. He first met Rep. McEachin when he married Collette Wallace.
"I knew right away I was meeting someone special," Rep. Clyburn said.
Seated in the front pew and just across the aisle from Mrs. McEachin was House Speaker Pelosi. The outgoing House speaker hugged Mrs. McEachin several times throughout the service.
In her remarks that followed Rep. Clyburn, the grace, wisdom and spirituality for which the speaker often has been lauded were fully displayed.
"I want to acknowledge Congressman McEachin's greatness to bring people together," said Speaker Pelosi. "He brought together The Saint Paul's Baptist Church and Virginia Union University Choir today. It is in that spirit that we all come together to celebrate the life of Donald McEachin."