Former RIchmond firefighter is Petersburg's first woman fire chief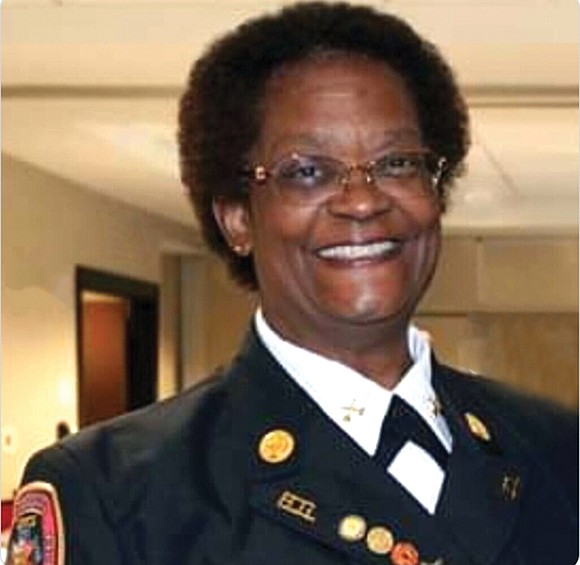 Shortly after being sworn in at Petersburg's new fire chief on Jan. 31, Tina R. Watkins described the moment as "surreal" and something she has envisioned since childhood.
"You know, I'm just living my childhood dream from the age of 8," Chief Watkins said.
Watkins, who is Petersburg's first woman and first African-American woman to lead the Petersburg Fire Department, is understandably excited.
"I worked hard to get where I am, and right now, I'm just happy. I'm speechless."
Although the city's Fire Department has had its share of interim leaders in the past, Chief Watkins' position is permanent. She was selected from a pool of 13 candidates to oversee the city's Fire, Rescue and Emergency Services.
During her swearing-in ceremony, Petersburg's City Manager Stuart Turille applauded her leadership abilities and service to her profession.
Before joining Petersburg's Fire Department, Chief Watkins worked for the Richmond Department of Fire and Emergency Services for three decades, where she was the second Black female firefighter in the city, and served for 11 years as Richmond's battalion chief. In that role, she supervised five stations and six fire companies. Chief Watkins also is a U.S. Coast Guard Veteran and 1995 Richmond Firefighter of the Year.
And as one of Richmond's first two female firefighters, Chief Watkins also has experience navigating what has traditionally been a male-dominated profession.
In Petersburg, the new chief will be responsible for more than 75 Petersburg Fire-Rescue members, as well as a $4 million budget.
"I am committed to providing unparalleled leadership and customer service to the citizens of Petersburg," said Chief Watkins in a published statement. "Developing fire safety community programs and supporting ongoing professional development and training for all firefighters and rescue personnel is my goal. I will work to secure new fire equipment needed to better protect the city."
"Ms. Watkins has a proven track record serving in leadership roles with Richmond Fire and Emergency Services since 1988," said City Manager Stuart Turille. "She rose to the top as the best qualified candidate for the position of Fire Chief in Petersburg."
Chief Watkins said being selected as the first Black fire chief gives all females, especially minorities, a modern-day role model for reaching their dreams.