Bon Secours breaks ground on new $11M medical office building in East End
Jeremy M. Lazarus | 2/24/2022, 6 p.m. | Updated on 2/28/2022, 7:22 p.m.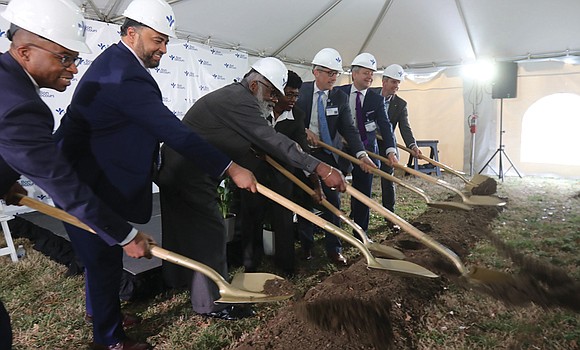 Coming soon: A new Bon Secours Mercy Health medical office building in the East End that will house up to 100 doctors, nurses and other staff and include space to provide group therapy for mentally ill addicts.
On Tuesday, the health system officially broke ground on the two-story building that will sit next door to its 104-bed Richmond Community Hospital, a combination acute care and psychiatric treatment center.
The 25,000-square-foot building will largely provide new space for Bon Secours operations, according to Joseph "Joey" Trapani, the hospital's chief operating officer. Key elements of the new building include expansion of psychiatric services. Those will include day treatment programs for up to 30 teens and adults with diagnosed mental health and substance abuse issues and room for the Bon Secours Response Team that provides services to people suffering with mental illness.
The building also will provide a new home for other elements of Bon Secours' health operations, including the 122-year- old Instructive Visiting Nurses Association. The building also is to house Bon Secours' hospice and home health programs, the pastoral care program and health information management.
The total investment, including design and site work, is around $11 million, Mr. Trapani said.
"We are thrilled to celebrate and break ground on this new facility that will expand our ability to serve the East End," Bryan Lee, president of Richmond Community and St. Mary's hospitals, said at the ceremonial launch.
"This is a great day for our community," Richmond City Council President Cynthia I. Newbille said about the new development in the city's 7th District, which she represents.
Just a few months ago, former Mayor Dwight C. Jones was among those expressing concern about the lack of development of this office building, which Bon Secours had agreed to build as part of a 2012 deal with the city to obtain naming rights for the Washington Commanders football team training camp located on West Leigh Street behind the Science Museum of Virginia. More than nine years have passed since the deal was inked, and Bon Secours now is hustling to get the building completed by the Dec. 31 deadline the health system agreed to in order to avoid financial penalties that were built into the deal.
Mr. Trapani called the construction schedule "aggressive," but believes the general contractor, Gilbane Building Co., will be able to have the building ready to open by January.
The final result far exceeds the requirement that Bon Secours spend at least $8.5 million on the project and create at least 75 new jobs paying an average of $86,666 a year. Bon Secours' investment will be among the area's most significant in terms of commercial development.
Mr. Lee said the day treatment program, also called partial hospitalization, is new for Bon Secours and grew out of Bon Secours' discussions with community residents and leaders about the needs. He said Bon Secours heard over and over again about the need for enhanced mental health services.
The Rev. Sylvester T. Smith Jr., pastor of nearby Good Shepherd Baptist Church and a member of Bon Secours' community advisory council for Richmond Community Hospital, praised the company for its willingness to listen and craft health programs to benefit the area.
A major employer in this area with more than 275 people on Richmond Com- munity Hospital's payroll, Bon Secours has made significant investments in the area to promote business growth, recreation, housing and transportation to boost health and prosperity.
Along with providing $30 million a year in uncompensated charity care at the hospital, Bon Secours has invested $200,000 in bus shelters for the area, contributed $1.6 million to create a public gym at the Salvation Army Boys and Girls Club, spent $150,000 to create a children's playground and provided nearly $800,000 to aid 36 businesses to open near the hospital. The health system also has contributed more than $11 million to improve food access and provide other community benefits, and spent nearly $11 million to improve facilities at Richmond Community Hospital in recent years.
Bon Secours Richmond Community Hospital, established in 1907, was a nonprofit that was founded by and largely managed and operated by Black physicians when it was an independent facility.
One piece of the health system's agreement with the city that remains on hold is Bon Secours' pledge to build a separate office building on the site of the former Westhampton School as part of obtaining the NFL team training facility naming rights. However, a separate $53 million apartment and commercial development already has been completed on that site.