Foremost wishes for 2022:
1/6/2022, 6 p.m.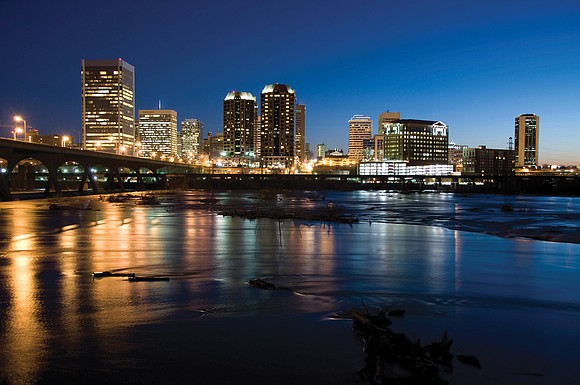 With the start of 2022, the Richmond Free Press invited select officials to share their foremost wishes for the new year. Here are their responses:
To be healthy, thriving and secure
Richmond Mayor Levar M. Stoney
"In 2021, we experienced the painful reality that the COVID-19 pandemic is still with us. More than 390 city residents died from the virus last year, and the impact it had on lives—from job loss among working adults and learning loss among our students, to a deadly spike in gun violence — is still being disproportionally experienced in our most vulnerable communities.
But 2021 also was a year we demonstrated resilience. We took steps toward recovery and planted seeds in the form of significant investments that will take root and yield a better future for our communities and families. That is why I'm very optimistic for 2022, when these investments will begin to grow into real change that lifts up our residents and enhances the quality of life for all who live, work and play in the city of Richmond.
We're investing $78 million – more than half of the city's allotment of American Rescue Plan Act dollars— to rebuild and renovate community centers and expand parks. We've set aside $20 million to build affordable housing, and millions more to redevelop public housing, promote health equity and directly address gun violence.
We continue to pursue economic opportunity for our residents—from corporate expansions of existing businesses like that of CoStar Group, to new development that promises better jobs, housing, shopping and public amenities in our City Center innovation district (Downtown) and in the Diamond District bordering Scott's Addition.
This city is my family, so my foremost wish is the same that I imagine all Richmonders have for their families, their neighbors and those they love: To be healthy, thriving and secure.
We do that by getting more Richmonders vaccinated against COVID-19. Only 67 percent of adults have the shot now and we need to bolster our defense in order to protect everyone, especially the sick and elderly.
We do that by continuing our efforts to build trust and cooperation between law enforcement and the communities they serve and protect.
And we do that by supporting economic development that leaves no one behind — lifting up families with jobs and reducing the burden on taxpayers by generating much-needed revenue for city services and priorities.
In short, we act like a family. We come together to ' support and love and trust each other.
Working together, we will move forward and closer to One Richmond, an inclusive, compassionate and equitable city for all."
---
Have peace in every aspect of life
Richmond Commonwealth's Attorney Colette W. McEachin
"My wish for the city of Richmond in 2022, and in every year, is peace.
Peace in every person's mind—so that you can face the challenges and traumas that life brings to all of us and respond in a healthy and productive way.
Peace in every person's heart—so that when you are hurt or depressed or angry, you know that there are people and resources available to help you address that emotional pain.
Peace in every home—so that children are raised by people who love and protect them and who also model appropriate and positive behavior for them.
Peace in our schools—so that students, faculty and staff can recognize and respond to all the educational and developmental challenges that have been exacerbated by the pandemic and continue to support and educate Richmond's future workforce and leaders in a safe environment.
Peace in the workplace—so that as co-workers, clients or customers, we do our best to be patient, thoughtful and understanding of those with whom we come in contact.
Peace in every neighborhood—so that children walk to school safely and play in their neighborhood without the fear of fights or gunfire breaking out.
Peace in every gathering of juveniles and adults—so that the dangerous emotions of fear, jealousy, revenge, rage and retaliation can be addressed and resolved without resorting to violence.
Finally, it is said that there can be no peace without justice. The Richmond Commonwealth's Attorney's Office will continue to protect victims and witnesses; to recommend alternatives to conviction or incarceration where appropriate; and to prosecute in a just and equitable manner at all times.
May you all have a healthy, prosperous and peaceful new year!"
---
Improve Virginia for people of color
Robert N. Barnette Jr., president of the Virginia State Conference NAACP
"Injustice anywhere is a threat to justice everywhere"— Martin Luther King Jr.
My foremost wish is to improve the Commonwealth for Black Virginians and people of color in 2022.
The well-being of Black Virginians should be a concern not only of the Virginia State Conference NAACP, but of all elected officials and all Virginians.
The Virginia NAACP and our units have worked collectively to battle a variety of issues such as the ongoing impact of COVID-19, fighting for the removal of racist statutes, holding elected officials accountable and mobilizing voters through civic engagement.
Our work speaks for itself. In 2021, not only did we register 2,306 new voters, we also recruited more than 16,000 highly engaged volunteers from across the country for our Indirect Relational Voter Turnout program, providing them with training and lists to contact more than 300,000 infrequent registered Black voters in Virginia. Once the lists were sent out, more than 100 students from our NAACP Youth and College division reached out to volunteers to offer support and encouragement.
We also sent roughly 1 million text messages and 500,000 mail pieces, placed more than 100,000 live phone calls and aired radio ads across the state. The Virginia NAACP coordinated our 110 branches, youth councils and college chapters in our largest off-year voter mobilization campaign in 30 years, raising and spending more than $2.5 million resulting in historic Black voter turnout in 2021.
We have made it our mission to ensure justice and demand accountability within the Commonwealth while moving the needle to raise awareness for injustices on a state and local level. It goes without saying that a multigenerational movement is vital to achieve optimum success.
While we have made some progress, there is still more work to be done. We encourage you to join us to take a stand and join in the movement for equality.
Join us at naacpva.org."
---
Focus on resolving education issues
Katina Harris, president of the Richmond Education Association
"I appreciate the opportunity to express some of our desires and intentions regarding the direction in which the Richmond Education Association, as an organization, will move in 2022.
Now that we have won the ability to enter into collective bargaining with Richmond Public Schools, we will be focusing on resolving issues that have been plaguing educators, education support professionals and students for years. The way that we plan on addressing these issues is securing first contracts for employees of RPS.
An additional goal of the REA is to aid and collaborate with RPS regarding employee retention and student growth—socially, emotionally and academically. We have a strong desire for our scholars to compete on a national level and we believe that we can achieve this by focusing on the aforementioned areas.
Recently it has come to the REA's attention about pending and potential evictions of Richmond residents. These actions will negatively impact our students both directly and indirectly. We know that we have limited ability to prevent evictions, but we are willing to support any efforts to prevent and/or postpone evictions during the winter months and during the overall pandemic.
In closing, the REA plans to advocate for the full funding of the state Education Department's Standards of Quality and hold the administration of Gov.-elect Glenn A. Youngkin to some of his campaign promises about raising teacher pay. We will attend the Virginia Education Association's Lobby Day on Jan. 24 to meet with elected officials.
As we move forward being the light in some very challenging spaces, we have to remember a quote from Dr. Martin Luther King, Jr.: "Every man must decide whether he will walk in the light of creative altruism or in the darkness of destructive selfishness."
Peace and progress."