Councilwoman Trammell takes steps toward 2nd referendum on city casino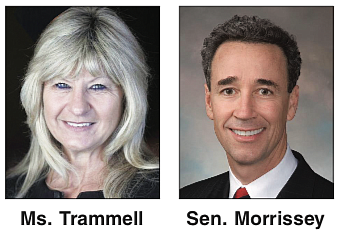 Richmond's plans to allow a private company to create a gambling mecca in South Side collapsed in November when voters opposed to a casino narrowly defeated it by just under 1,500 votes.
Now one of the biggest supporters of the project, 8th District City Councilwoman Reva M. Trammell, wants a do-over.
Still smarting from the defeat, Ms. Trammell wants to revive media giant Urban One's proposal to develop a $565 million casino and resort off the Bells Road exit of Interstate 95.
On Monday, Ms. Trammell took the first step to renew the effort.
She introduced legislation, which if approved by City Council, would authorize a second referendum in the next general election in November. The state law that authorized five casinos in Virginia, including one in Richmond, is silent on a locality's ability to try again after voter rejection.
The official result of referendum shows 40,243 voters rejected the casino plan while 38,750 supported it.
Ms. Trammell's hope is that if the proposal can make the ballot again, supporters would turn out in larger numbers to pass it and get back on track the project that, among other things, promised to create 1,000 new full-time jobs, to support minority businesses and to generate tens of millions in new annual revenue for the city.
The veteran council member faces several hurdles. One is potential opposition from the General Assembly.
Another hurdle would involve corralling four other members of the nine-member City Council to go along with the idea. That could prove more difficult than she might anticipate.
A majority of voters in only four of the nine City Council districts supported the casino — the 6th, 7th and 9th as well as the 8th District that Ms. Trammell represents. All four of the districts have majority-Black populations.
A majority of voters in the city's five other districts, including the majority-Black 3rd District, rejected the casino-resort Urban One hoped to build. The majority-white 1st, 2nd, 4th and 5th districts piled up big majorities of opponents, but the development lost by just 144 votes in the 3rd District, or 3 percent of the 4,766 votes cast.
Even so, Councilwoman Ann-Frances Lambert, who represents the 3rd District, has scotched the idea of supporting a new referendum.
Ms. Lambert issued a statement Tuesday announcing her opposition to Ms. Trammell's plan to resurrect the original deal. Ms. Lambert stated she could only support an entirely new deal.
ouncilwoman Stephanie A. Lynch, 5th District, another potential swing vote, expressed sympathy for Ms. Trammell's posi- tion, even though voters in her district rejected the casino by a 19 percent margin.
Ms. Lynch noted that the 8th District and adjacent districts "made a very clear choice to support a casino-resort complex in their community. The majority of voters in my district, however, were not in favor of this, and as a representative of their voices I cannot ignore that either."
She stated that she would not rush Ms. Trammell's push for a second referendum.
"I think we need time to unpack the election results and underlying assumptions, have some conversations with voters and really listen to their concerns. I just learned (about Ms. Trammell's proposal),
but knowing this is on the table, I am looking forward to doing just that."
Still, Ms. Lynch hinted that unless there is some movement among voters in her district that might show a second vote could produce a different result, she would be unlikely to cast her vote for another referendum.
And then there is the blockade that could come from the General Assembly to ensure Ms. Trammell's proposal does not get off the ground.
State Sen. Joseph D. Morrissey, whose 16th District includes Petersburg as well as a large chunk of Richmond's South Side and Church Hill, confirmed he is preparing to introduce legislation that would give Petersburg and its voters an opportunity to decide whether to host a casino.
He believes he has an excellent chance of securing a bipartisan majority to give Petersburg a referendum opportunity before Richmond would be allowed to try again.
"Ms. Trammell needs to respect the will of the electorate," Sen. Morrissey said, adding he believes that view would be shared by a majority of legislators in the state Senate and House of Delegates.
He said Ms. Trammell's proposal flouts the democratic process and the principle of majority rule.
"Should Richmond be able to keep holding such votes until Ms. Trammell gets the result she wants?" he asked. He said that seems to be straight out of former President Trump's playbook.
Even if the casino law does not bar a second referendum, Sen. Morrissey noted that other laws requiring a referendum do, such as a vote on imposing a tax on restaurant meals. For example, if voters in counties reject increasing the sales tax on meals, a locality has to wait five years to try again.
He said he would argue that kind of rule should apply to a referendum on a casino.