Jill Biden visits Henrico clinic to promote vaccine for children
George Copeland Jr. | 7/7/2022, 6 p.m.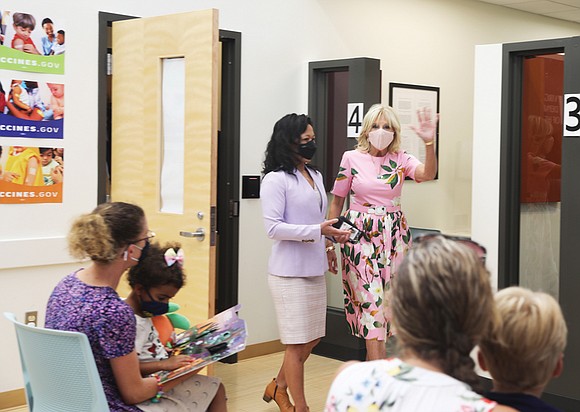 First Lady Jill Biden joined state and local leaders at a Henrico County health clinic on July 1, where they encouraged parents to vaccinate children between the ages of six months to 5 years old.
Dr. Biden toured the Henrico County Health Department East Clinic, where she met and spoke with parents seeking to protect their young children from COVID-19.
"I know it's been hard," said Dr. Biden, acknowledging the toll the pandemic has had on the parents of very young children. "But you've done an amazing job. You've protected your baby and carried your family through this."
"And now, that relief is finally here: a vaccine for our youngest children."
Dr. Biden's visit came a few weeks after the Food and Drug Administration and the Centers for Disease Control and Prevention approved COVID-19 vaccine doses for what is currently the youngest age group able to be vaccinated.
A day before Dr. Biden's tour, CDC data ranked Henrico County, and several Metro Richmond localities, with a high level of community COVID-19, a reminder of the still-present threat of infection for many and the critical value of vaccination and other safety measures during this time.
"This is such an important milestone in our continued fight against the pandemic and a testament to the leadership of the Biden administration," said Congressman A. Donald McEachin, who joined several elected officials in welcoming Dr. Biden to the Richmond area.
Dr. Biden urged parents uncertain about vaccinating their children to consult with their child's pediatrician to get the answers and assurances they may need. She also encouraged them to use the resources available nationally and locally to find nearby sites once they've decided to seek vaccination.
"Make the decision to protect your children with the same vaccine that has already saved millions of lives," Dr. Biden said. "Because nothing is more important than our children's health.
"It's up to us to keep them safe — and with this vaccine, we can."