City's plan leaves fewer people with shelter this winter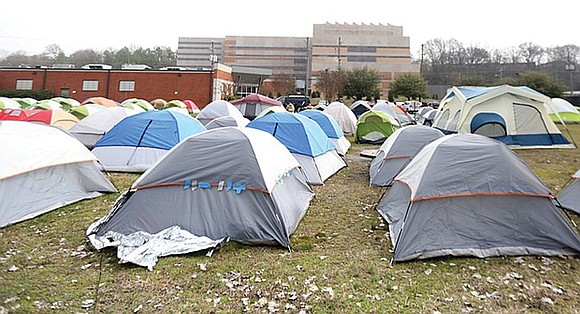 City Hall is ending its decades-old effort to prevent homeless people from freezing to death when temperatures plunge.
Just a few months away from cold weather's return, Mayor Levar M. Stoney's administration has notified City Council that it plans to pay one or more nonprofit operations to provide shelter to a total of 100 single individuals a night – leaving anyone else without shelter to fend for themselves.
That could mean 50 to 75 people nightly who could be left out in the cold, based on the numbers sheltered in city-supported operations in the past when nighttime temperatures fell below freezing.
And that doesn't count families with children, who were never accommodated, at the city's winter overflow shelter.
The Stoney administration also is dropping a long-standing council policy requiring a shelter to be operational from Oct. 1 through April 15 of each year – and instead plans to delay the start of operations until November.
Sherill Hampton, director of housing and community development, disclosed the changes that have been in the works for more than a year at last week's meeting of the council's Education and Human Services Committee.
Fifth District Councilwoman Stephanie A. Lynch, who chairs the committee, labeled the policies "heartless."
Ms. Lynch pleaded with Ms. Hampton to work with Chesterfield and Henrico counties to see if they would contribute to ensuring adequate winter shelter. She indicated that finding adequate space for a shelter has been difficult.
Despite her concern, Ms. Lynch and others on council already had signaled support for shrinking winter shelter services to the homeless.
For two years, Ms. Lynch has pressed the Stoney administration to create a one-stop housing center and shelter on a par with Virginia Beach.
Like most on the council, she backed the initial administration plan to provide the funds to enable Commonwealth Catholic Charities (CCC) to add a 75-bed shelter at its Shockoe Valley housing resource center.
As the Free Press reported, that plan collapsed in mid-June, leaving the administration scrambling to find an alternative.
Ms. Hampton told the committee that a notice is being issued seeking nonprofits, churches or others to provide 100-bed space in a winter shelter. She said the hope is that one organization could provide that space, including meal service, or that two or more organizations could provide space with meals that combined would total 100 beds.
The work of providing shelter to those without homes is handled by nonprofits who operate under the umbrella of the Greater Richmond Continuum of Care and its executive agency, Homeward. But the hundreds of beds are often full, particularly during the winter.
Since at least the early 1990s, the city has pitched in during the winter by either using space in one of its buildings or paying a church or nonprofit to operate a space for those turned away from private shelters.
After the pandemic hit in 2020, the city, with help from the state and a flood of federal dollars, ramped up the shelter operations it paid for.
At one point, up to 700 people were being housed in hotels. Commonwealth Catholic Charities became a critical component in handling operations, particularly for the winter shelter.
For the past two years, CCC operated the winter overflow shelter in a convention space of a North Side hotel. During the winter, 150 to 175 adults were often crammed into the space to keep warm overnight. A separate shelter for families with children and the medically fragile housed more than 200 people a night.
But with the extra federal funds largely used up, Ms. Hampton made it clear that the days of having a robust city-supported shelter program on top of the network of beds the nonprofits offer are over.
Rhonda Sneed, founder and executive director of Blessing Warriors, a nonprofit that provides food and clothing to the unsheltered, has been outspoken in her criticism of the city's effort, saying that Richmond treats stray animals better than unsheltered humans.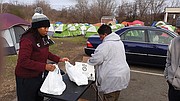 In her view, the best way to ensure sufficient shelter be for the city to allow her to install a tent city akin to the Camp Cathy operation she developed in 2019 across from the Richmond City Justice Center.
Her tent program operated for nearly a year before the mayor had it torn down.