NextUp RVA promotes positive youth development
Recent graduates excited about their future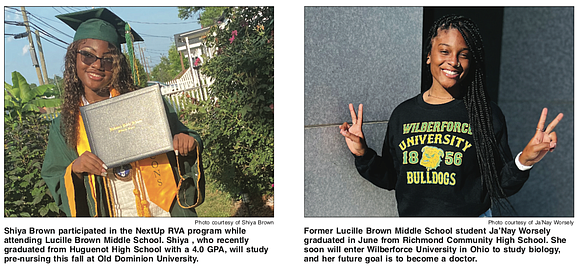 Shiya Brown was a Richmond Public Schools student at Lucille Brown Middle School in 2015. When she became part of NextUp RVA's second cohort, she explored several after-school programs that helped her grow academically and creatively.
"In middle school, I was really interested in art and writing," Shiya said in a recent interview. "[Taking] those programs really helped me to develop written assignments."
Other programs such as economics and robotics tapped into her analytical and problem-solving abilities. Shiya used those skills to graduate with a 4.0 GPA recently from Huguenot High School. The next step in her academic journey will come when she starts pre-nursing studies at Old Dominion University this fall. She plans to focus on newborn development and disorders for an eventual career in neonatology.
Another former Lucille Brown Middle School student, Ja'Nay Worsely, also spoke about her experience with the nonprofit NextUp through Greater Richmond's North Side YMCA. She learned to deejay in Spin Academy and took part in "Y Achievers," a program Ja'Nay said helped "build an academic and social foundation for high school."
It is a foundation that will continue to help the recent Richmond Community High School graduate as a biology major at Wilberforce University in Ohio, where she will pursue her dream of becoming a doctor.
Since its launch in 2014 at Thomas H. Henderson Middle School, NextUp RVA has coordinated more than 60 community-based providers to offer high quality after-school programs without cost to any middle school student attending Albert Hill, Boushall, Lucille Brown, Martin Luther King Jr., River City or Thomas H. Henderson middle schools.
Studies have shown that such after-school programs provide benefits not only for participating youths and their families, but for entire communities as well. The Interagency Working Group on Youth Programs lists effective after-school programming on its website, from supporting social and emotional learning to a significant return-on-investment. The increase to youth earning potential from improved academic performance, as well as a reduction in crime and juvenile delinquency, can save $3 or more for every $1 invested.
Yet, hurdles such as family income, available transportation and neigh- borhood safety can mean access to such programming is often less than favorable. According to state education data, more than half of RPS students are economically disadvantaged — a fact that NextUp RVA believes contributes to what educators call an "opportunity gap."
In addressing such gaps, NextUp has provided nearly 2,000 RPS middle schoolers outside-the-classroom learning in areas such as athletics, health, STEM, the arts, mentoring and leadership.
The success stories of program participants such as Shiya and Ja'Nay are reflected in the data NextUp has seen so far. In a recent phone interview, Anderson Hayes, NextUp RVA's communications manager, said that 92 percent of its inaugural 2014-15 cohort graduated on-time as compared to 78 percent of their peers. Data for its second cohort's graduation rates is expected to be available later this year.
Mr. Hayes also said registrations are open for the upcoming 2022-23 school year. Students from eligible middle schools may enroll by having their parents or guardians sign them up online through NextUp's Parent Portal before Oct. 2.
Additionally, NextUp RVA plays a central role in Richmond's efforts to curb rising gun violence. The nonprofit oversees the distribution of $1 million in grants from the city's Positive Youth Development Fund to community-based organizations providing mental health services, parental support, tutoring, mentoring and after-school programs.
The first round of grant recipients was announced in June. In a news release, Mayor Levar M. Stoney highlighted the benefits of local community-based providers saying, "grassroots organizations that know and work in the community will help ensure those closest to impacted com- munities have the resources to disrupt the cycle of violence, and encourage positive development for our young- est residents."
"Every child deserves the opportunity tunity to discover their talents and to just stay safe and supported and ultimately to thrive," NextUp RVA's CEO, Barbara Sipe, said in the same release. "The more coordinated our efforts, the more extensive our reach, the greater the impact that we can make on children's present and future."
This positive impact is something Shiya and Ja'Nay both experienced in the NextUp program.
"NextUp RVA is a fantastic opportunity for children to get out and have fun after school instead of going straight home," Ja'Nay said.
Debora Timms, a Richmond Free Press freelance writer, contributed to this article.