VSU's new academic building scheduled for 2024 opening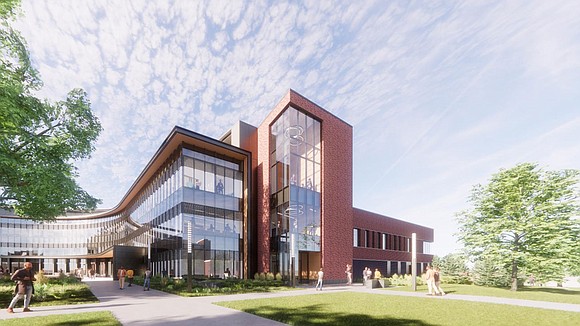 Virginia State University students studying the Harlem Renaissance, American history or trends in education will soon do so in an expansive new academic building that the university promises to provide "transformational academic experiences.
When breaking ground on the $120-million academic building last month, VSU leaders said the Alfred W. Harris Academic Commons, named for a founder of the university, will be the largest building ever constructed on the 140-year-old campus. Scheduled for completion in 2024, it will replace the soon-to-be demolished Daniels Gymnasium.
The new 174,000 square foot, three-story building that will feature a curved glass façade on the Ettrick campus, north end, will be easily recognizable to students, alumni and visitors. Harris Hall, an academic building for the humanities, was demolished earlier this year.
The new structure also will include a swimming pool, gymnasium, theater, and exhibition gallery.
The building also replaces Daniels Gymnasium, which was home to the men's and women's basketball teams until the university opened its 6,000-seat Multi- Purpose Center in 2016.
The university's master plan calls for building new athletic fields and outdoor basketball courts where Daniels Gym currently stands.
"We are thrilled about the greater academic experiences that will happen in our new building," said VSU President Makola Abdullah, such as a destination for interdisciplinary collaboration and group study.
The Commonwealth of Virginia will pay for the construction with funds allocated by the General Assembly.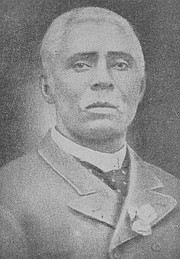 The building is named for Alfred W. Harris, a Black attorney and delegate in the General Assembly, who sponsored a bill in 1882 to charter Virginia Normal and Collegiate Institute, which later became Virginia State College.
The Ettrick-based HBCU was renamed Virginia State College for Negroes in 1930, and Virginia State College in 1946. The school attained university status in 1979.
"The new Alfred W. Harris Academic Commons building will be the epitome of the vision of our founder and its namesake as it will offer a place of transformation for our students," Dr. Abdullah said. The university, which currently enrolls 4,300 students, plans to build or renovate several other buildings and change campus infrastructure in the next 10 years. Among them is an initiative to close off University Avenue, a road that cuts through the center of campus, into a pedestrian walkway. According to the administration, the primary driver for this street closure is pedestrian safety in the academic core of campus.
VSU's master plan, approved by the board of visitors and updated when needed, recommends building a 30,000-square-foot addition to Johnston Memorial Library, a leadership building along Boisseau Street, an outdoor performance stage and amphitheater and a second academic building nearby.
VSU's master plan also calls for the construction of a walking bridge across Petersburg's Appomattox River, renovating up to one dozen campus buildings, building an urban agricultural cooperative extension center near the Multi-Purpose Center, and adding 500 dormitory beds.
In the fall of 2021 VSU grew by nearly 300 students. This enrollment growth reverses three years of student reduction.