New dating apps — and 'in person' mixers — target religious and political niches
Kathryn Post/Religion News Service | 10/6/2022, 6 p.m.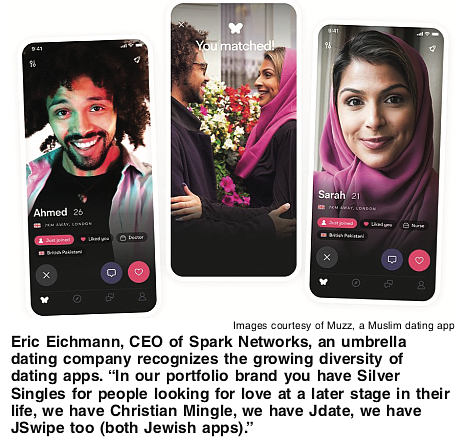 Dating today can be a bit like ordering at Chipotle. The universe of dating apps makes it easier than ever to custom-order a partner of your choosing — their height, their food preferences, their religion.
A new crop of dating apps aims to target the more picky consumer — narrowing the menu by prioritizing a "main ingredient." Want to date someone who is Mormon? There's an app for that. Want to date someone who is queer? Or gluten-free? Or over 50? There's a site for that, too.
"What you're seeing now is that the market is segmenting more and more as it becomes mainstream," said Eric Eichmann, CEO of Spark Networks, an umbrella dating company. "In our portfolio brand you have Silver Singles for people looking for love at a later stage in their life, we have Christian Mingle, we have Jdate, we have JSwipe too (both Jewish apps). It's about people looking for other people who have that same criteria as their first criteria."
This month, as Tinder celebrates its 10th anniversary, two new niche dating sites are hitting the market, joining countless other apps promising that shared beliefs and values are key to long-lasting relation- ships. While skeptics grimace at some brands' gimmicky — or, in extreme cases, offensive — advertising, some specialized apps have proved successful. Sites like Muzz, for Muslim singles, boast over 7 million users.
Still, some app users say even the most selective dating site can still lead to burnout, "creepers" and catfishing.
Even before its official launch, the new site Dominion Dating has proved contro- versial. Its target audience is Christian singles who believe husbands should rule over their wives, women should be homemakers and Christians should have children to exercise "dominion over the world," per the website. Its membership application requires users to both abstain from "dressing sensually or immodestly" and submit an endorsement from "the man you are submitted to for discipleship," all of which has solicited eye rolls aplenty from the app's many critics.
Another ultraconservative app, The Right Stuff, is also slated to debut this month. Co-founded by former Trump administration personnel chief John McEntee, the app is advertised as a "dating app for the Right wing" and a substitute for apps that have "gone woke." Though The Right Stuff is more political than religious, Mr. McEntee told Religion News Service he expects most users will be Christian. He added that the idea for the invite-only app came from frustrations with existing options.
"Some of the current apps, it's not just that the users are mean-spirited to conservatives. It's that they make you agree to left-wing things, and it's really in your face," he said. "We're just saying, 'Why don't we just create our own place where we know at least that one giant filter is done for us?'"
The site is backed by billionaire Peter Thiel, who is in a same-sex marriage, but it does not offer dating services for LGBTQ users.
Some of today's most popular dating apps, including Hinge, allow users to filter based on religion or political identity, but others, like Bumble, require a premium subscription to do so.
According to John Angelis, 42, a college professor and app user who lives in Virginia, users often try to get around the cost of additional filters on mainstream apps by advertising their political preferences.
"Some people now put on their profiles 'Don't swipe right or left if you're a Republican or Democrat,' whichever it is," Mr. Angelis said. "I think politics is the No. 1 thing I see mention of in a profile. Compared to 10 to 15 years ago, I see much less religious preference stated."
For Mr. Angelis, who occasionally uses Bumble and a site called Christian Café, it's faith that is non-negotiable when it comes to relationships. In his experience, Christian dating sites lead to better quality dates, even if the pool is smaller.
"(Christian Café) asks you a lot more questions about how you are actively participating in your faith, and you have to set up a profile that's more about how did you become a Christian, how active are you in the faith, how often do you attend church."
Michael Langlais, a professor at Florida State University who studies technology and relationships, noted that many contemporary dating apps cater
to surface-level connections based on profile pictures or witty catchphrases. He sus- pects that religious apps are likely more effective for those seeking marriages, rather than casual dates.
"These religious apps are sort of like, let's skip the shallow end of things and let's go straight to values," Mr. Langlais said. "And that can be a very powerful predictor of relationships, if you know you and this other individual share values."
Many of the well-established dating apps and sites distinguish themselves from stereotypical hookup apps like Tinder by framing themselves as tools for finding lifelong partners. Mr. Eichmann, of Spark Networks, spoke to RNS about Jdate, a 20-year-old Jewish dating site that Eichmann says is ubiquitous in Jewish circles.
"When people think of Jdate, they realize it's about finding a soulmate," said Mr. Eichmann.
In addition, according to Mr. Langlais, research shows that today, the quality of relationships formed online is similar to those formed in person, which, he notes, is a shift from what the research showed just 10 to 12 years ago. "My own research shows that people who meet on dating apps have just as much satisfaction and com- mitment as those who meet in person," he said.