VSU alumni, faculty and students have much to celebrate this 'homecoming'
George Copeland Jr. | 10/6/2022, 6 p.m.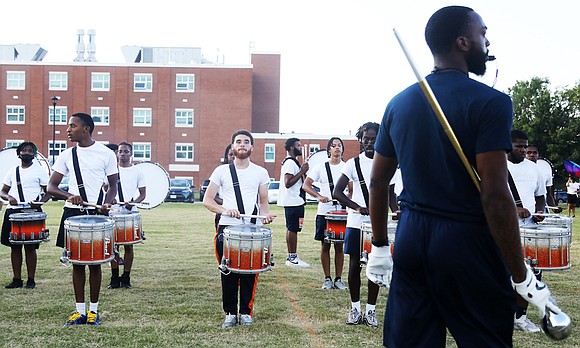 Virginia State University's first homecoming since 2019 likely will be a landmark in many ways, returning to the campus this year amid a surge in interest and enrollments in historically black colleges and universities locally and nationally.
The multi-day, multi-event celebration, united under the theme of "Something Greater On The Hill," already has showcased small and large-scale festivities, community events and multiple concerts since it kicked off last Saturday. More will be coming throughout the rest of the week for those inside and outside the VSU community, including a parade and multiple events.
"Homecoming and its traditions are a major part of the VSU experience," VSU President Makola M. Abdullah said in a statement. "We have planned festivities that appeal to the various interests of all of our Trojans and we are excited to show off our many new upgrades to campus, to celebrate a victory and to welcome everyone safely back to the "Greater" at VSU."
The event will be a unique for many new and returning VSU students, as student enrollment has grown significantly since the last traditional homecoming was held. According to Alexis Brooks-Walter, associate vice provost for enrollment management, the college, like many other HBCUs, has seen a surge in interest in recent times.
"We have seen a rise in enroll- ment in the last two years, which has been a phenomenal experience," Dr. Brooks-Walter said. "College and higher education allows students, specifically a lot of minority students, to be able to attain their educational career and dream goals and so we're very excited to be part of their pathway."
VSU's enrollment numbers for fall 2022 haven't been shared publicly yet, but a 40 percent increase in freshmen from last year is expected according to Dr. Brooks-Walter, and previous semesters could be cause for optimism. The college's fall 2021 semester featured the largest year-to-year increase in enrollment in a decade, with 280 freshmen contributing to a total of 4,300 students at the time. VSU also reported a 76 percent student retention rate during that semester, its highest in 20 years.
Similar figures have been seen in other HBCUs in Virginia, with Virginia Union University reporting its highest enrollment since 2017 and its highest student retention rate during its fall 2021 semester. Hampton University, meanwhile, reported a 13 percent increase in student applications from 2019 to 2020.
Like other HBCUs, VSU's good fortunes stand in sharp contrast to other colleges, where decreasing enrollment over the last decade fell further during the COVID-19 pandemic. In 2021, U.S. News and World Report revealed that college student num- bers fell by more than 600,000 countrywide, a decline that has continued into 2022. By comparison, HBCU enrollment numbers increased to 9 percent in 2020, accord- ing to the National Center for Education Statistics, following decades of decline and college closures.
"When students decide to continue their education at Virginia State University, it is a testament to the idea that greater happens here," said Donald E. Palm, provost and senior vice president for academic and student affairs, last year when VSU shared enrollment numbers.
"While we appreciate this accomplishment, we will continue to be intentional in implementing more programs and strategies to ensure that our students enjoy a positive and transformative academic experience at VSU."
When asked about potential causes for this increase, Dr. Brooks-Walter pointed to a number of sources working together that are likely responsible. This included the efforts of the Black Lives Matter movement during the pandemic that led to large-scale and focused protests, including calls to reassess choices made by colleges, to notable alumni and athletes returning to their alma maters to celebrate the value of HBCUs or even join their staff.
She also cited the expansion of resources like the Virginia College Afford- ability Network, which is helping almost over 500 students attend VSU with free tuition, additional funding, and programs that connect colleges to high schools and former students looking to complete their degrees as major drivers of this increase for VSU.
The effects this rise in enrollment has had on VSU's campus and the surrounding Petersburg community in just two years has been clear. While recent renovations at VSU have been touted as part of the homecoming week, Dr. Brooks-Walter said these changes reach much farther due to the larger number of students.
VSU has sought to expand its residential living spaces, as rising enrollment has stretched their housing capacity. The Petersburg community outside VSU's campus has been a key partner in this matter, and apartments in Colonial Heights have reached out to provide living spaces. With additional state support for Petersburg coming in the months ahead, Dr. Brooks-Walter sees this growth as a positive development for both the college, its community and their relationship.
"I think that it's a phenomenal opportunity for the city," Dr. Brooks-Walter said. "As we look at how the Commonwealth is pouring in to help the health, the education and the economic impact of Petersburg, VSU is center stage in most of those interactions."
"We are closely tied with the community, and so as we think about how VSU is growing, how Petersburg is growing, those are synergistic and I think we're gonna be able to help each other."
The impact of increased enrollment has also extended to the courses taken and majors chosen, according to Dr. Brooks- Walter. While psychology, biology, criminal justice, health and physical education remain top majors at VSU, 2022 has seen the biggest increase in computer science and engineering interest in years, with the number of freshmen in those courses nearly doubling.
As VSU is now placing greater emphasis on increasing its science, technology, engineering and mathematics scholars, and with several external partnerships at the college focused on STEM courses, this growth could pay further dividends for the college in the years to come.
Looking to the future of VSU, Dr. Brooks- Walter said an additional residence hall will likely be needed for students if this growth in enrollment continues, to help maintain the college experience for students she saw as an important part of VSU life.
For the future of HBCUs in general, Dr. Brooks-Walter stressed the need for collective work and outreach to ensure they can continue to bring in new students and staff and fully support or accommodate them. She placed particular importance on HBCU funding that is equitable to the support given to other institutions, to ensure this rise in enrollment doesn't overwhelm colleges like VSU that, as their homecoming theme highlights, seek to provide "Something Greater" for students, no matter their limits.
"We always have been doing more with less — that has been our story for the last number of years, that we have taken students and been able to develop them and used the student support services to create leaders that can change the community," Dr. Brooks-Walter said.
"At some point, funding has got to equalize or additional funding has got to be poured into HBCUs so that they can continue to do what they want to do, and help all the students that would like to attend."