Personality: Nicole Unice
Spotlight on Rise Richmond's board chairwoman
8/31/2023, 6 p.m.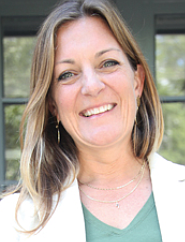 The Rev. Nicole Unice says the best thing her parents ever taught her was that life is a great adventure.
Thus, the self-confessed "adrenaline junkie" seems to find adventure in everything she does — from hang gliding on her last birthday to authoring seven books to teaching in multiple Evangelical congregations in and around the Richmond area.
It was during the course of her ministry work that Rev. Unice first connected with Rise Richmond — then known as Church Hill Activities & Tutoring or CHAT. She says she was "hooked" on the nonprofit as soon as she began working with the students and staff in 2015.
"What I saw with Rise was real transformation with a lot intentionality and an incredible commitment to the community," Rev. Unice said in a recent telephone interview.
What started as homework help and hospitality in the Church Hill home of founders Percy and Angie Strickland grew into CHAT, which became a registered nonprofit in 2003. Twenty years later the organization serves more than 150 students annually through its after-school programming for kindergarten through eighth grade, a fully accredited Christian high school and job training, mentoring and employment for teens and young adults.
In August, CHAT was rebranded as Rise Richmond to better reflect its mission and services. The word "rise" was chosen to embody the energy and momentum that allows students to realize their goals are achievable, and Rev. Unice says the proud moments are many.
"Every time a graduate of one of our programs comes back to visit, it's a reunion and celebration of everything they're accomplishing."
She adds that the organization also provides a meaningful way to accomplish the work of reconciliation — something she believes should be the primary work for people of faith — and Rise is a place to make that happen in and through the young people in Richmond's East End.
The North Carolina-born pastor moved to Virginia to attend college at William & Mary, settling in Richmond with her husband, David Unice, in 1997. They live in The Fan and will celebrate their 26th wedding anniversary in September.
"It was an issue of convenience when we first moved here because we were recruited to jobs in Richmond," Rev. Unice said. "We fell in love with the community and we're still here."
That love made them both want to give action to their beliefs. When asked to serve as Rise's board chair, Rev. Unice accepted the offer. She stepped into the role in January 2021, and her time as board chairwoman was just extended for one more year. For her, it has been a revelation to learn just how valuable a board is to an organization — especially in encouraging and shepherding its vision.
Rise's organizational vision now is for a permanent home for its programs. The nonprofit's need for more space has led to raising its profile and financial resources to make that goal a reality.
"We have waiting lists for all our programs," Rev. Unice added. "We need a modern, accessible campus that can accommodate all the demand that we have."
Meet a pastor whose ministry is people and this week's Personality, Nicole Unice:
Volunteer position: Board chairwoman, Rise Richmond.
Occupation: Author, pastor, and chief people officer of Pangea Technologies.
Date and place of birth: Aug. 21 in Ft. Bragg, N.C.
Family: Husband, Dave; and children: Charlie, 20, Cameron, 18, and Desmond, 16.
Rise Richmond is: A community of students, families, volunteers, donors, staff, and neighbors championing students' voice and ability, and bringing the future within reach.
Mission: Rise Richmond cultivates the God-given potential of students through learning opportunities that equip them to flourish.
How I became involved with Rise Richmond: While doing local ministry, I was able to connect some young leaders with the volunteer work in the after-school program. From there, I was able to connect into leadership and work with the team on clarifying mission and some strategic planning. Once I was connected with the students and the staff, I was hooked!
Why this organization is meaningful to me: I believe that for people of faith, our primary work is reconciliation—showing up to learn and connect more deeply with God and our neighbors. Rise is a place where that work is happening day after day, in and through young people. There's nothing more valuable than that.
Why I accepted position as board president: Our world in the last few years has become increasingly divisive and polarized on many issues. We experienced that first-hand as a community in 2020 as we reckoned with generations of systemic inequalities and racism, in a way that invited conversation at every table. In the midst of that experience, I was invited to pray about becoming the board chair for Rise [formerly CHAT]. It felt important to both me and my husband to not be neighbors who just talk about issues and move on with our lives. We also wanted to put our resources and time behind the work of reconciliation in Richmond, in whatever part we could play.
No. 1 goal or project: Raising awareness about Rise and the benefit to the community, building our donor base and preparing to build out a permanent home for our programs.
Strategy for achieving goals: Prayer! First and foremost, Rise and its board are a praying people. We believe in the presence of God and His love moving in and through the work we do together.
No. 1 challenge facing Rise Richmond: Space and financial resources — we fill up every room in our largest facility at CarlisleAvenue Baptist Church, which is where Rise Academy and Rise After School are located. We have waiting lists for all our programs, and we need a modern, accessible campus that can accommodate all the demand that we have! And 90% of our budget is funded through the generosity of the Richmond community.
What makes this student-centric organization unlike others:
• Age range of student population served (kindergarten through young adulthood).
• Breadth of programming/variety of learning opportunities.
• Faith-based approach.
How Rise Richmond operates: We run three programs:
• Rise After School: Monday-Thursday after-school programming for kindergarten through eighth grade
• Rise Academy: fully accredited, independent, Christian high school
• Rise Labs: job training, mentoring, and employment for teens and young adults
How a student can sign up for Rise Richmond: Visit https://www.riserichmond.org/studentapplications to learn how to get involved in each of our programs.
Other ways to become involved with Rise Richmond include:
• Volunteer with Rise After School (get started at https://www.riserichmond.org/volunteer)
• Give to Rise Richmond: https://www.riserichmond.org/donate.
• Support our workforce training by visiting Rise Cafe (https://risecaferva.com/) or purchase products from Rise Print Shop (https://www.riserichmond.org/print-shop).
Upcoming events: A Richmond Big Band Christmas: two shows Dec. 2, 2023, at the Byrd Theatre. Benefit tickets available at https://bigband-christmasrva.com/)
How I start the day: With coffee, prayer and hopefully a run in the neighborhood.
The three words that best describe me: Curious, intense, energetic.
If I had 10 extra minutes in the day: I would read a great book.
If I host a dream dinner party I would invite: Sandra Day O'Conner. She was the first female justice on the Supreme Court and was my childhood hero.
Best late-night snack: Popcorn drizzled with olive oil & garlic salt.
The music I listen to most is: Worship music.
A quote that inspires me: "I want to live my life in such a way that it would not make sense if God did not exist." — Cardinal Emmanuel Suhard
No. 1 on my "to-do" list: Finishing last edits on my next book.
Who influenced me the most: I've been most influenced by my friend, mentor and pastor Pete Bowell. He taught me how to really see people and to love them just where they are.
What I'm reading now: "Letters from Henri" (a collection of Henri Nouwen's correspondence through his life), a book on "Management Strategies for Organization Growth," and just finished re-reading "Invention of Wings" by Sue Monk Kidd.
Next goal: Get my two oldest kids settled in college and reset rhythms of life with our new normal!