Personality: Amy Black
Spotlight on Pink Ink Fund founder
2/2/2023, 6 p.m.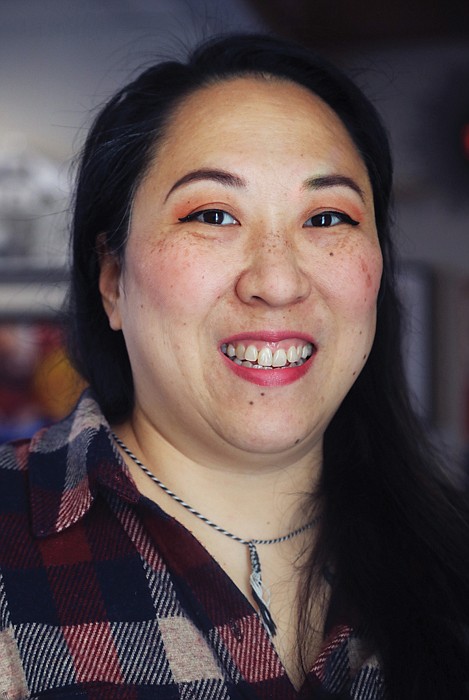 Amy Black fell in love with tattoo art after getting her first tattoo as a college student at Columbus College of Art and Design in Columbus, Ohio.
"My love with getting tattoos and tattoo culture grew alongside what I was studying in college," the former oil painting and anatomy student said. "It's a fun to put art on your body."
Turned off by large cities such as New York and Los Angeles, Ms. Black decided to move to Richmond. "I had apprenticed [in tattoo artistry] for a little bit and when I got to Richmond, I was working coffee shop jobs, trying to figure my life out," she said. "I was 25 and attempting to 'adult.'"
She was hired for administrative work at Alive Gallery, a local tattoo shop owned by Timothy Hoyer. Soon after, Ms. Black became Mr.Hoyer's business partner for what became Alive Tattoo, and in 2005, she became the sole owner of the shop and renamed it Amy Black Tattoo.
In her work, she eventually recognized the need for "nipple and areola re-pigmentation" or "nipple and areola tattooing" as a part of breast reconstruction for patients who'd had mastectomies and were recovering from battling breast cancer.
In 2010, Ms. Black launched Pink Ink Fund, a nonprofit organization dedicated to providing grants for people who desire to get a tattoo to make their breasts or chest look more realistic. Although reconstructive surgery may include a rebuild of the areola and nipple on the breast or chest, the natural coloring and pigmentation often is not there. A small number of artists do this type of tattoo work, and Pink Ink Fund provides grants to help people in need get reconstruction tattoos from her or other tattoo artists.
Ms. Black said she does about one reconstructive tattoo per week, and feels fortunate to be able to do what she loves. She plans to extend the reach of Pink Ink Fund to the Black, Indigenous and People of Color population. And, she feels fortunate to be in the position to be an artist living in a city where she can make a living as an artist and enjoy her work while making a positive difference in the lives of cancer patients.
"When you are younger, you have to cast a wider net in your work and while you love it, you have to do more projects that you don't really want to," she said. "But as the years progress, the way I work, I start to narrow in more and more on the projects I want to do."
And with Pink Ink Fund, Ms. Black is helping cancer patients rebuild their self image and rebuild their lives. Ms. Black also is an ally and supporter of the LGBTQIA community, and does mastectomy tattoos for transgender clients.
Meet a positive body art advocate and this week's Personality, Amy Black:
Volunteer position: Founder/ President of Pink Ink Fund 501(c)(3).
Date and place of birth: Jan. 10 in Korea.
Where I live now: Richmond.
Occupation: Tattoo artist, artist, writer, ceramicist, charity founder.
Education: Fine arts major, Columbus College of Art and Design in Columbus, Ohio.
Pink Ink Fund is: A 501(c) (3) with a focus on providing one-time micro grants to those in need for their mastectomy tattooing. The grants are intended to include those at/below poverty level, military, first responders and their families, and people in the BIPOC and LGBTQIA community.
When and why I founded the organization: Pink Ink Fund was founded in 2010 to help bridge the gaps insurance does not cover for decorative mastectomy tattoos and/ or nipple tattooing done by practitioners outside of their insurance network.
How the name was chosen: Pink is the globally recognized color for Breast Cancer Awareness Month (October in the U.S.); "ink" to associate it with the tattoo process.
A decorative mastectomy tattoo is: Related to a person's mastectomy surgery/surgeries and anything outside of get- ting a natural/realistic human nipple tattoo.
How Pink Ink Fund decides who to support: A social worker and/or someone from the client's doctor's office nominates them. Military and first responders automatically qualify, so we just need verification of their occupation from the person nominating them.
Otherwise, we choose our recipients according to the information provided to us, particularly those who are in the most financial need (close to or below poverty level, generally). Other special cases also will be considered.
How many people does Pink Ink Fund support during the year: Currently there is no cap to the number of grants we give out and we have only given out a few.
How support is given to clients during this sensitive process: They contact a social worker or nurse navigator or someone from their doctor's office. A medical professional nominates the client/patient to take the stress off of the candidate. We look at the information and give the micro grant. The recipient can use it for anything related to the procedure, including lodging, transportation or the mastectomy tattoo itself. We leave how the funds are used up to the recipient of the grant.
How design and artwork are chosen: Pink Ink Fund does not endorse any specific tattoo artist or get involved with the tattoo designs themselves. The grant recipient is responsible for this part.
How Pink Ink Fund's work impacts a cancer patient's mental health following their surgery: Every patient has a unique story. The general result is about helping them continue to heal from their cancer experience and giving back to clients the power of making decisions about their own body.
This is not just for women. Why?: While the number is a lower percentage compared with females, men get breast cancer, too. The fatality rate is much higher in men due to a lack of awareness and education, and many doctors misdiagnose it and/or assume the symptoms are not breast cancer.
How Pink Ink Fund reaches people from all communities: Pink Ink Fund continues to use social media for outreach and actively works to partner with like-minded organizations to extend outreach. We especially look to connect with social services and nurse navigators to reach those most in need of care and financial help.
How Pink Ink Fund is funded: Most funds come from individual donations; other funding comes in the form of grants and groups who raise money for charities.
How to connect with Pink Ink Fund: Email is best: pinkink- fund@gmail.com.
How I start the day: A hot mug of tea, mindfulness, daily Buddhist meditations, prayers and taking care of my dog!
A perfect day for me is: Getting another day to experience being alive and working on myself and my health, and helping others.
Something I love to do that most people would never imagine: Play video games. I have played video games since I was very young and at almost 50 (years of age), I still find their art and creativity entertaining, and they are great for decompressing after work.
A quote that inspires me: "For as long as space endures, and for as long as living beings remain, until then may I too abide, to dispel the misery of the world." — Shantideva (also a favorite prayer of His Holiness the Dalai Lama).
At the top of my "to-do" list: Become the best person I can be for myself and others and to be as economically and socially conscious as possible while doing it.
Best late-night snack: Pop- corn.
Best thing my parents taught me: True love and compassion reaches beyond all boundaries and differences between people.
Person who influenced me the most: The Dalai Lama.
Book that influenced me the most: There are multiple. Here's a few: "The Doors of Perception" by Aldous Huxley, "Three Cups of Tea" by Greg Mortenson, and "The Universe in A Single Atom" by His Holiness the Dalai Lama.
What I'm reading now and my takeaway: "The Song of the Cell: An Exploration of Medicine and the New Human," by Siddhartha Mukherjee. I just started it, but I love the way the author writes and I love reading about new advances in medicine while comparing it to old practices and mindsets. It's opening up new avenues and thought patterns for researchers and medical professionals. It examines ways to go back to the building block of humans and finding ways to affect the cell via cell therapies that older systems cannot compete with in order to bring about cures and healing that did not previously exist. It's highly enlightening and inspiring.
Next goal: To continue to be as goodofapersonasIcanbe;to continue to exercise kindness and compassion on all levels as much as possible; to continue to create art and find new avenues for my creativity; and to uphold my hope to always help others when and where I can. I hope to bring Pink Ink Fund's assistance into more communities in need, as well as raise awareness for its existence and availability to BIPOC and economically challenged communities.