Personality: Teresa Cole
Spotlight on Fonticello Park Friends board president
2/16/2023, 6 p.m.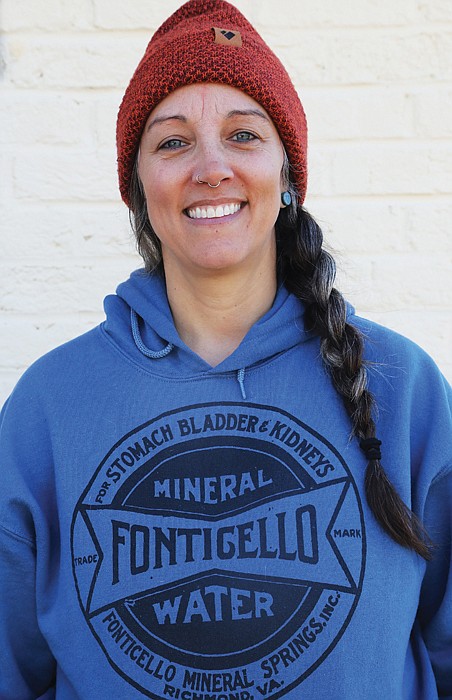 As a child growing up in the 1980s, Teresa Cole was a "latchkey kid" who played outside a lot.
"My dad lived near Canoe Run Park, and my friends and I built forts in the woods," she said. "I have always preferred being outside."
As she grew into adulthood, Ms. Cole never lost her love for spending time outdoors. Today that sense of adventure, which includes snowboarding, skiing and whitewater rafting sports, is shared with her family.
Fonticello Park, an area often used by her family and nearby residents, has not been maintained like other parks in the city that serve mostly white communities, she said.
"I shouldn't have to go over to Maymont to enjoy time at the park when there is one right here in my neighborhood," she said.
Ms. Cole said her "wake-up call" regarding the park's unkempt condition came when Amy Robins, a city council liaison, visited the park and posted pictures of its crumbling infrastructure.
"There are no working bathrooms, so people defecate where springs used to be and a port-a-potty on the property is regularly destroyed," Ms. Cole said.
Cracked pavement and overgrown grass on the tennis and basketball courts also show the park's disrepair.
"This park has been neglected and that needs to change," she said.
Following the shooting death of Markiya Simone Dickson, a 9-year-old who was killed at Fonticello Park during the 2019 Memorial Day weekend, a group of area residents who used the park began regular meetings to discuss the park's safety issues. But the COVID- 19 pandemic halted the effort, Ms. Cole said.
Four years later she is focused on restoring the park.
"We're just getting started and we aren't perfect yet," she said. She said the majority of the people involved with the board of the nonprofit she created to improve the park are white, and the group is "actively working to change it."
"Our plan is to continue engaging the entire community no matter what it takes," she said. "We have removed traditional barriers to participation like monetary dues and in-person voting, to ensure we provide a myriad of ways for people to be involved."
Ms. Cole's work to restore Fonticello, she said, is not just about restoring the park in her neighborhood, but about equitable maintenance and access to beautiful parks for everyone, regardless of where they live.
Meet a proponent for parks and the outdoors and this week's Personality, Teresa Cole:
Volunteer position: Board president, Fonticello Park Friends.
Occupation: Former public school educator; currently program administrator for CodeVA.
Date and place of birth: Jan. 8 in Richmond.
Where I live now: Swansboro neighborhood.
Education: Bachelor's in interdisciplinary studies and bachelor's in English, Virginia Commonwealth University. Master's in curriculum and instruction, University of Richmond.
Family: My partner, Matt, and my three children, Caden (17), Elliot (15) and Hollis (13) and my two fur babies, Ida and Zara.
Fonticello Park Friends is: A diverse group of concerned and passionate neighbors who volunteer to advocate for the park after observing decades of deferred maintenance, neglect and violence.
When and why founded: It was originally founded in the early 2020s by concerned neighbors.
Founders: Laney Sullivan, Jameson Price, Ja'Nai Fred- erick, Vaughn Garland, Traci Garland, Tyler Howell, Randy Minor, Carl Joseph, Charles Lawson, Alan Nicholas, Amanda Silvester, Charlie Schmindt, and Chris Ercolano.
Fonticello Park is located: In the Swansboro and Woodland Heights neighborhoods off of Bainbridge in Richmond's South Side.
Brief history of Fonticello Park: This park has a LONG history. I encourage folks to check out our website at www.fontielloparkrva.com to learn more. The spring on the property was frequented by indigenous people prior to colonization. Then white people stole it and built a homestead on it around 1760, which changed hands multiple times in the 1800s until William Garland Taylor bought it. Around 1923, City Councilman Carter Jones began advocating for a park on the South Side, noting the inequality of parks opening for the white children on North Side Richmond, but there were no parks on the South Side for the over 1,500 Black children who lived there at the time. He established an 11-acre park that was heavily used from then until the early 2000s for local and school sports, as well as community events.
How I became involved with Fonticello Park Friends: My family and I are in the park daily, playing foursquare, biking, picnicking, roller-blading, or chilling in a hammock. We walk our dogs there daily. After the most recent shooting of three teens in September 2022, I went to a meeting with the Parks, Recreation and Community Facilities for Richmond and started volunteering to help with different tasks/projects and my involvement grew from there.
When elected board president: We are in the process of building governance, developing bylaws, membership structures and breaking down barriers to involvement.
Why I accepted the role as leader of the group: My mom always said I was a "natural leader" so I think I've slipped into the organizing role as we have gotten started.
Previous president's name: Rose Marie Wiegandt.
Ways Fonticello Park Friends ensures it fully represents the entire community and not just newcomers: We are aware of the ways gentrification has impacted Richmond, including the Swansboro neighborhood.
We've gone door to door handing out flyers, talking to neighbors in the areas around the park that are typically underrepresented.
Who was 9-year-old Markiya Simone Dickson? She was just a little girl waiting to ride a pony in the park, enjoying a hot day in May with her family, celebrating the Memorial Day weekend. She was shot and killed there.
How Markiya's tragic death impacted how the park has evolved or has not evolved: Unfortunately, not much has changed in the park since her death. In September 2022, more gun violence erupted in the park when six people were injured at a baby shower. The infrastructure has continued to decay. The park hasn't had a playground since November 2020, and we have one that should be completed soon.
Number one goal or project as board president: I've heard time and again that Markiya's family wants her memory honored by creating a safe place for kids to play, without being reminded of the violence. For me, honoring that request is number one.
Strategy for achieving goals: We've prioritized creating a diverse board that represents the different lived experiences of the people in our community.
Upcoming events: SPCA Dog Safety Education Event on March 18; a community work day and a ribbon-cutting ceremony for the new playground soon.
Ways to get involved: Come to a Friends meeting, become a member, volunteer at a workday, get involved in one of our projects, write your city councilperson to advocate for equitable parks, join our mailing list, come to one of our events, buy some merchandise or donate on our website www.fonticelloparkrva.com
A perfect day for me is: Doing anything outside with my family — hiking, camping, kayaking, skiing — just playing in nature is the best way for me to recenter.
Something about me that people may not know: In my free time, I'm a raft guide at Riverside Outfitters.
A quote that inspires me: "The function of freedom is to free someone else."— Toni Morrison
My friends describe me as: Intelligent, tenacious and de- termined.
At the top of my "to-do" list: Hike the Appalachian Trail.
Best late-night snack: A handful of frozen M&Ms.
The best thing my mom ever taught me: As a woman, I've got to learn to do for myself. I don't need anyone to help me get things done.
The person who influenced me the most: There are so, so many. My mother, my grandmother, Dr. Njeri Jackson and Dr. Rose Landrum Lee from VCU, my previous principal, Melanie Phipps, authors and activists bell hooks, Toni Morrison and Angela Davis, all of whom I've heard speak in person.
Book that influenced me the most and how: "Black Faces, White Spaces: Reimagining the Relationship of African Americans to the Great Out- doors By Carolyn Finney." I spend a lot of my free time in the outdoors and this really opened my ideas to the ways in which we continue to racialize the outdoors and perpetuate exclusionary practices.
What I'm reading now and my takeaway: I'm raising three teens. I haven't read a book in months!
Next goal: I'd love to see the skatepark expansion at Fonticello Park come to fruition.