Personality: Sean David O'Brien
Spotlight on ART 180's board president
1/12/2023, 6 p.m.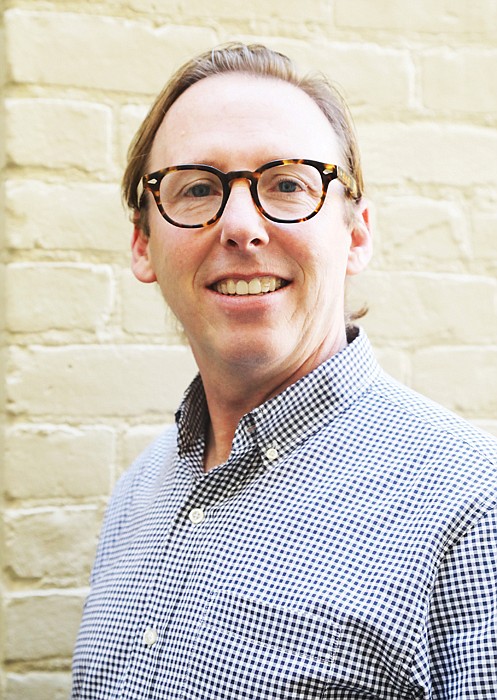 Sean David O'Brien loved Richmond from the time he came to the city as a University of Richmond undergraduate student.
"One of my favorite things to do is get out in the city because it's so different from where I grew up," he said. "The history, different neighborhoods and row houses — I just love it."
Born in Portsmouth, N.H., Mr. O'Brien grew up in Fort Worth, Texas. As a high school student, he flourished at what he describes as "a very diverse high school." He especially enjoyed soccer, a sports hobby that he maintains even today. But he credits his years as a Richmond Spider at UR with setting the foundation for his desire to work with organizations contributing to the greater good.
After college, Mr. O'Brien moved to Washington, D.C., and began volunteering while he was unemployed. He volunteered for an organization that delivered meals to people who were homebound and suffering from AIDS, and the experience left an imprint on his consciousness that only encouraged his feeling of commitment to making a difference in the community.
"Everyone there was from different walks of life and super committed," he said. "The people we helped were so grateful and it really opened my eyes to the power people have in joining with others to do good in the world."
Mr. O'Brien, president of the board of trustees for ART 180, says the nonprofit arts organization has shown Richmond what the city could be, providing inspiration and a space for Black and Brown children to express themselves artistically. He discovered ART 180 a decade ago and later became one of its volunteers, he says.
"More than anything, ART 180 provides a spirit that helps to remind people that we don't have to be defined by our past," he adds. "There is so much we can do in order to make Richmond a vibrant community for the arts and for the lives of students, teachers and parents who are a part of these programs."
Meet an advocate for the arts and this week's Personality, Sean David O'Brien.
Volunteer position: President, ART 180 board of trustees.
Occupation: Director, Community Health, Bon Secours Richmond.
Date and place of birth: Aug. 16 in Portsmouth, N.H.
Where I live now: Richmond.
Education: Bachelor's degree, University of Richmond, and master's degree in urban and environmental planning, University of Virginia.
Family: Wife, Lili; two sons, Sam and Miles.
ART 180 is: An organization that provides young people from across the Richmond area the freedom to express themselves creatively and transform our community with their artwork, stories, and lives.
When and why founded: 1998. Seeing that the majority of Richmond youths had limited access to artistic workshops and programming, ART 180 was founded to bridge this gap.
Founders: Marlene Paul and Kathleen Lane.
How I became involved with ART 180: I discovered ART 180 in 2012 while running down Monument Avenue and seeing the huge wooden painted panels that ART 180 youths created for the "What Do You Stand For?" exhibit. I stopped to read the young artists' statements of personal inspiration and it touched something deep inside me. I later attended one of the youth exhibitions at ART 180's Atlas space and was hooked. Volunteering led to an invitation to serve on the board and here I am today.
When elected board president: September 2020.
Why I accepted position: I was the board vice president and it was my turn. I was nervous and a little intimidated.
Length of term: I've served three consecutive, one-year terms.
Previous president: Joeffrey Trimmingham. He was an excellent role model.
Number one goal or project as board president: Encouraging the amazing ART 180 team to follow their instincts and embrace new paths.
Strategy for achieving goals: Foster an environment where board and staff feel empowered to have honest, supportive conversations without fear of saying something wrong.
ART180 is especially important for Black and Brown children and their families because: It uses artistic expression and community building as a means for Black and Brown youths to believe their voices deserve to be heard and they have something important to say that our society needs to hear.
Number one challenge facing ART 180: Envisioning its evolution over the next 25 years.
Ways I have witnessed the magic of art and young people through ART 180: These young folks are so much braver than I will ever be ... to put their art out for others to see and then talk about it to a bunch of people they don't know is just so impressive.
As ART 180 kicks off its 25th anniversary this year, its most notable achievement has been: Connected, supported and inspired so many people over its life. It has been a real catalyst for positive change in our city.
Ways to get involved with ART 180 as a volunteer or participant: You can volunteer or just attend an exhibition at Atlas on First Fridays in Jackson Ward or follow them on social media to learn about the latest happenings.
A perfect day for me is: Watching soccer, sleeping late, having lunch out with family and friends, walking my dog, shopping for records and a nap(s).
Something about me that people may not know: My grandfather, Davey O'Brien, won the Heisman Trophy in 1938 as a quarterback for Texas Christian University (TCU). They won the national championship that year.
A quote that inspires me: "From what we get, we can make a living; what we give, however, makes a life." — Arthur Ashe Jr.
My friends describe me as: Kind.
At the top of my "to-do" list: Travel to England and watch my favorite Premier League soccer team, Southampton FC, play a game in St. Mary's Stadium.
Best late-night snack: Pimento cheese on crackers and a beer.
The best thing my parents ever taught me: Treat everyone with respect.
The person who influenced me the most: I strongly believe that you can learn something from everyone, and I've been so fortunate to have had so many amazing people teach me something.
Book that influenced me the most: "A Confederacy of Dunces" by John Kennedy Toole. This book makes me laugh out loud every time I read it, which I value more and more as I age.
What I'm reading now: "Richmond's Unhealed History" by Benjamin Campbell. Virginia's history is chock full of people finding new and innovative ways to ensure Black and Brown people suffer.
Next goal: To give myself a little slack.