Tart's VUU game plan: jumping, leaping and winning
1/26/2023, 6 p.m.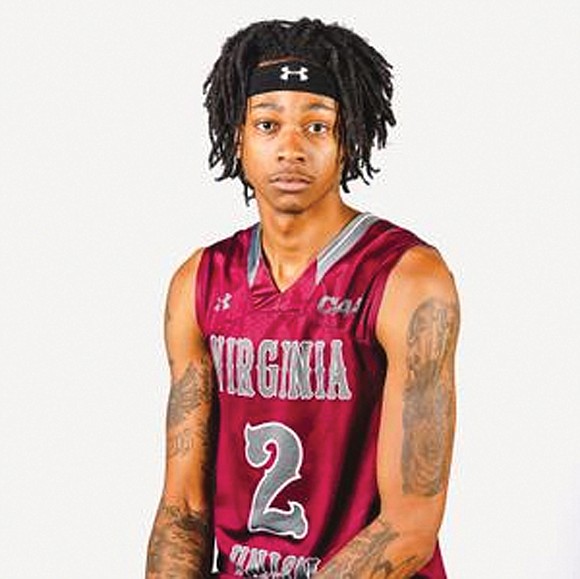 It's fitting that Charles Tart III grew up within a few minutes of Richmond International Airport in eastern Henrico County.
Tart, you see, is quite the high flyer himself.
Now a Virginia Union University sophomore, the 6-foot-4 athlete performs his takeoffs and landings for a 16-4 Panthers outfit that has cat eyes on a CIAA hoops title.
"We like to get Charles out on transition, to run the floor," said VUU Coach Jay Butler. "That's where he gets a lot of his baskets ... above the rim."
Tart's first dunk in competition came as an eighth grader at John Rolfe Middle School.
As a senior at Varina High, Tart won the 804 Area All-Star Game dunk contest with a thunder slam that had spectators wiping their eyes.
"I took off at the foul line," he said of his winner.
And if you don't believe him, there's evidence.
"A picture got in the newspaper, and I've still got it. It's my favorite photo," Tart said.
Even his nickname, "Twin," comes from his leaping ability. His play-alike "twin" is former VUU jumper extraordinaire Jordan Peebles, who was All-CIAA a year ago.
"We call each other Twin," said Tart.
Wearing No. 2 in maroon and steel, Tart averages five points and two rebounds in about 23 minutes per outing. Many of his 34 buckets have come from a downward trajectory. All four of his field goals against Virginia State were throwdowns.
A multi-tasker, he's added 29 assists and 19 steals, and that's not all.
"Charles is a big plus for us, especially on defense," said Coach Butler. "He's one of our best defenders."
Tart, who refers to himself as "the energy man," relishes the role of shutting down opponents.
"I love playing defense, always have," he said. "That's how you win."
Tart knows plenty about winning. During his junior and senior seasons at Varina, the Blue Devils went 50-4 with a Class 5 State title in 2018 and a run to the State quarterfinals in 2019.
Overshadowed by other teammates. Tart received just one firm scholarship bid, from VUU, and a few more nibbles from other schools, some being Division III.
Being a homebody, Tart packed his sneakers for Lombardy Street and quickly made Coach Butler's talent evaluation look wise. As a freshman, he made the CIAA All-Rookie team.
Next came some twists in the road. The 2020-21 season was canceled due to the pandemic and then Tart sat out 2021-22 as an academic redshirt.
During that spell, he kept in shape playing VUU intramurals and in the tough Loveday Rec League.
The two-season layoff from college hoops did nothing to diminish his airborne skills. He has arrived back in the VUU lineup and is cleared for takeoff.