UR awards Paragon Medal to Marcus Weinstein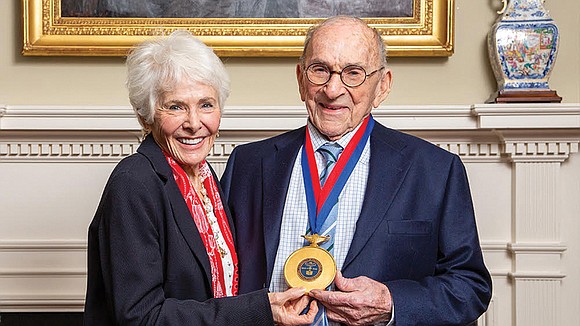 The Paragon Medal, the University of Richmond's highest honor, has been awarded to University of Richmond alumnus Marcus Weinstein, a, well-known philanthropist, and chairman of Weinstein Properties. Weinstein is only the second person in history to receive the medal. The first was E. Claiborne Robins in 1986.
The Paragon Medal is awarded to an individual who has demonstrated an unparalleled commitment to the University and positively shaped the University's present and future, according to a UR news release. The award honors Mr. Weinstein's enduring legacy of leadership and philanthropy as well as his advocacy for and support of both the University and the broader region.
Mr. Weinstein received his undergraduate degree from the University in 1949 and an honorary doctor of commercial science in 2002. He was awarded UR's Alumni Award for Distinguished Service in 2005. He and his wife, Carole M.Weinstein, a UR alumna, received the President's Medal in 2013 honoring their outstanding service to the University.
The Weinstein family has demonstrated extraordinary generosity to the University over many decades, the news release states. Among numerous contributions to campus, their gifts led to the creation of the Carole Weinstein International Center, the Weinstein Center for Recreation, and Weinstein Hall. Additionally, the Weinsteins have supported endowed professorships and scholarship opportunities and numerous programming opportunities, including the annual Weinstein-Rosenthal Forum and other Chaplaincy initiatives.
"The University of Richmond has been instrumental in every success I've had over the last 70 years," Mr. Weinstein said. "The University has given so much to me, and I've tried to do whatever I can to show my appreciation in return."
Mr. Weinstein said gifts of all sizes can make a big impact.
"I was raised by my mother, and she believed it was important to share what she had with others. Giving to others and helping to make the world a better place is critically important to my Jewish faith," Mr. Weinstein said. "By sharing what I have with other people I feel like I am helping to make the world a better place and making my mother proud."
"Over five decades, Marcus and the Weinstein family have enhanced the student experience while holding our university to the highest standards," said University of Richmond president Kevin F. Hallock. "They've improved our campus facilities, increased access and affordability for our students, supported the ethical development, health, and well-being of Richmond Spiders, raised the bar for academic success, and transformed Richmond into a truly global center for learning."