McConnell tries to reassure colleagues about his health, vows to serve out term as Senate GOP leader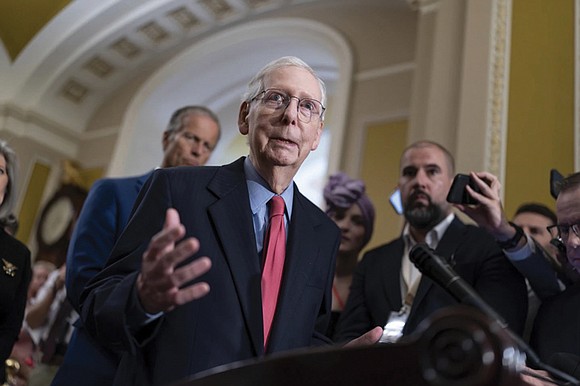 WASHINGTON - Senate Republican Leader Mitch McConnell declared again Wednesday that he plans to finish his term as leader despite freezing up at two news conferences over the summer, brushing off questions about his health as he sought to reassure colleagues he's still up to the job.
At a weekly, closed-door lunch with fellow GOP senators on Wednesday, Sen. McConnell pointed to the statement released a day earlier by attending physician Brian P. Monahan about his health. He said he was ready to move forward with the Senate's busy fall agenda.
Dr. Monahan's statement, released by Sen. McConnell's office, said there was no evidence that the 81-year-old McConnell had a stroke or was suffering from a seizure disorder after he froze up and appeared unable to speak for 20-30 seconds at two different news conferences. The episodes came after the GOP leader fell and suffered from a concussion earlier this year.
"I'm going to finish my term as leader and I'm going to finish my Senate term," Sen. McConnell told reporters, dismissing questions and requests for more detail about his medical condition. "I have nothing to add" to Dr. Monahan's statement, he said.
Sen. McConnell's words to the press and his colleagues were his latest efforts to assuage growing concerns about his health and silence questions about whether he can continue to lead his party in the Senate. The famously private Kentucky senator has faced some criticism from colleagues for remaining quiet about the incidents and his health, which has visibly declined since the concussion.
Behind closed doors, Sen. McConnell told other Republicans that his health issues are linked to his concussion. He believes that is a "plausible answer" to the questions, Texas Sen. John Cornyn said.
Sen. Cornyn said Sen. McConnell "hasn't missed a step" in terms of his cognitive abilities or ability to lead. But "physically, it's been tougher."
"He was more transparent, which I'm glad he did," Sen. Cornyn said of Sen. McConnell's comments at the private lunch. "This is not his style. But I don't think keeping things close to the vest serves his interests and it created a lot of speculation. So I think this is a positive development."
Other Republican senators also said they were satisfied with Sen. McConnell's explanation for the two incidents, the first in Washington in July just before the August recess and the second in Kentucky last week.
"I feel really good, I'm behind Mitch and let's move forward," said Sen. Lindsey Graham, R-S.C.
North Carolina Sen. Thom Tillis said Sen. McConnell has "broad support, and I think that's known by the majority of the conference."
North Dakota Sen. Kevin Cramer, who had called for more transparency from Sen. McConnell, said the leader's remarks were "a strong message. It was confident on his part. It was very direct."
Alabama Sen. Tommy Tuberville said that as part of his remarks to the GOP conference, Se. McConnell touted that he'd raised $49 million for Republican Senate candidates in August. "He convinced me" of his ability to lead, Sen. Tuberville said.
Still, Sen. Tuberville said the circumstances could change.
"I don't think there will be anything else said about it unless there's another incident," Sen. Tuberville said. "And that's what we're hoping."
The letter from Dr. Monahan that Sen. McConnell released Tuesday said there is "no evidence that you have a seizure disorder or that you experienced a stroke, TIA or movement disorder such as Parkinson's disease." TIA is an acronym for a transient ischemic attack, a brief stroke.
But there was no elaboration as to what did cause Sen. McConnell's episodes. The doctor said the assessments entailed several medical evaluations including a brain MRI scan and "consultations with several neurologists for a comprehensive neurology assessment."
"There are no changes recommended in treatment protocols as you continue recovery from your March 2023 fall," Dr. Monahan said.