Sex for sale
Candidate in high-stakes Virginia election performed intimate acts in live videos
Sarah Rankin and Denise Lavoie/The Associated Press | 9/14/2023, 6 p.m.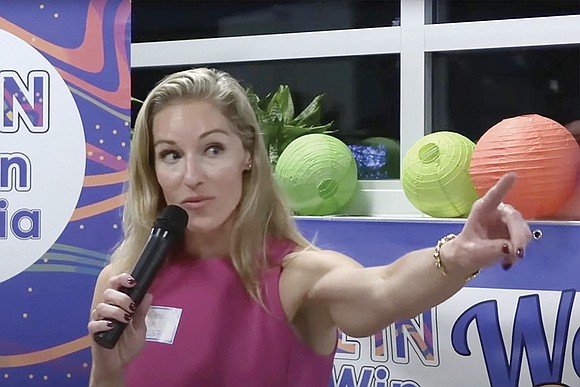 A candidate in a high-stakes legislative contest in Virginia had sex with her husband in live videos posted on a pornographic website and asked viewers to pay them money in return for carrying out specific sex acts.
Screenshots of Susanna Gibson on the website were shared with The Associated Press. The campaign for Ms. Gibson, a Democrat running for a seat in the Virginia House of Delegates in a district just outside Richmond, issued a statement Monday in which it denounced the sharing of the videos as a violation of the law and her privacy. Ms. Gibson called the exposure of the videos "the worst gutter politics."
"It won't intimidate me and it won't silence me," she said in the statement. "My political opponents and their Republican allies have proven they're willing to commit a sex crime to attack me and my family because there's no line they won't cross to silence women when they speak up."
The Washington Post first reported the videos on Monday. The revelation marked an explosive turn in a contest that will carry significant weight in determining the balance of power in the Virginia General Assembly. The race has attracted large amounts of spending and interest for an off-year legislative race.
Democrats control the Senate by a four-vote margin, and Republicans control the House of Delegates by the same margin, with four seats currently vacant. The parties are waging intense legislative battles as GOP rising national political star Gov. Glenn Youngkin looks to bolster his conservative agenda with full control of state government.
Mrs. Gibson said that exposing the videos is "an illegal invasion of my privacy designed to humiliate me and my fam- ily." Her attorney, Daniel P. Watkins, said that disseminating the videos is a violation of Virginia's revenge porn law, which makes it a crime to "maliciously" disseminate or sell nude or sexual images of another person with the intent to "coerce, harass, or intimidate."
"A criminal act has occurred here, and that's the dissemina- tion of revenge porn by a Republican operative," Mr. Watkins told the Associated Press.
Mr. Watkins cited a 2021 Virginia Court of Appeals ruling that found it was unlawful for a man to secretly record his girlfriend during a consensual sexual encounter even if he did not show the video to other people. The court found that consent to being seen is not the same as consent to being recorded.
Mrs. Gibson, 40, a nurse practitioner and married mother of two young children, won a Democratic primary in June and is running against Republican businessman David Owen in one of the most competitive districts in the state.
"I'm sure this is a difficult time for Susanna and her family, and I'm remaining focused on my campaign," Mr. Owen said in a statement.
A top-ranking Virginia Democrat immediately came to Gibson's defense after the videos were reported by the Post. "Now we are going to make this the biggest fundraising day of
her campaign," Sen. L. Louise Lucas said on X, the platform formerly known as Twitter.
Garren Shipley, a spokesman for Republican House Speaker Todd Gilbert, did not immediately respond to a request seeking comment.
Mrs. Gibson and Mr. Owen are competing in the 57th District, an area that includes suburbs of Richmond in both Henrico and Goochland counties. The district chose Youngkin by a 51.2%-to- 48.3% margin in 2021, but in the 2022 congressional midterm elections, the split in the district was 50% Democratic to 49.1% Republican.
Mrs. Gibson has said the U.S. Supreme Court's 2022 decision overturning Roe v. Wade propelled her into the race.
Mrs. Gibson had an account on Chaturbate, a legal website where viewers can watch live webcam performances that feature nudity and sexual activity, according to the screenshots reviewed by the Associated Press. The videos show Mrs. Gibson and her husband, John David Gibson, having sex and at times looking into the camera and asking viewers for donations in the form of "tokens" or "tips" to watch a private show.
Chaturbate videos are streamed live on that site and are often archived on other publicly available sites, the Post reported. More than a dozen videos posted under Mrs. Gibson's Chaturbate username were archived on one of those sites — Recurbate — in September 2022, the month after she announced her candidacy. The most recent were two videos archived on Sept. 30, 2022. It is unclear when the livestream occurred.
Meanwhile, Mrs. Gibson drew some early support in the high-stakes contest.
State Sen. L. Louise Lucas, a leading Democratic lawmaker in Virginia, quickly came to her defense, calling on voters to "make this the biggest fundraising day of (Mrs. Gibson's) campaign." Many women voters retweeted Mrs. Lucas with a link to donate to Gibson's campaign.
"Anybody who looks at this knows it's a hit job," said Amanda Linton, a 45-year-old defense contractor who donated $25 to Gibson's campaign after reading about the videos. Ms. Linton said she plans to donate another $100 to Gibson's campaign even though she can't vote for her because she lives outside her district.
"It's just nobody's business. She didn't break any laws by doing this. She had sex with her husband. I mean, my God," Ms. Linton said.
Sen. Lucas said she assumes the videos were leaked by a Republican in an attempt to embarrass Mrs. Gibson and hurt her campaign.
"They're looking for anything they can find on any candidate that they think might sway the voters," Sen. Lucas said. "It all has to do with who is going to get control of the Senate and who is going to get control of the House. It's all about control."
Democrats now hold the Senate by a four-vote margin, and Republicans control the House of Delegates by the same margin, with four seats vacant. Emily's List, an advocacy group for Democratic female candidates, also defended Gibson.
"Susanna originally ran for office because of the overturning of Roe and she's been very outspoken on standing up for reproductive rights. People are coming out in support of Susanna because they know that Republicans are coming after her because she was standing up for them," said spokesperson Lauren Chou.
Still, some observers of Virginia politics said it seems unlikely Gibson will entirely avoid backlash.
Stephen Farnsworth, a political science professor at the University of Mary Washington, said that even in a more open-minded era for personal indiscretions, it's highly unlikely Mrs. Gibson will win.
"Donald Trump has defined downward what is acceptable in public life, but this doesn't seem like the kind of conduct that Democrats will be able to sell in a suburban Richmond district," Mr. Farnsworth said.
Matthew Barakat contributed to this report.