Va. student test scores show no significant improvement
George Copeland Jr. | 9/14/2023, 6 p.m.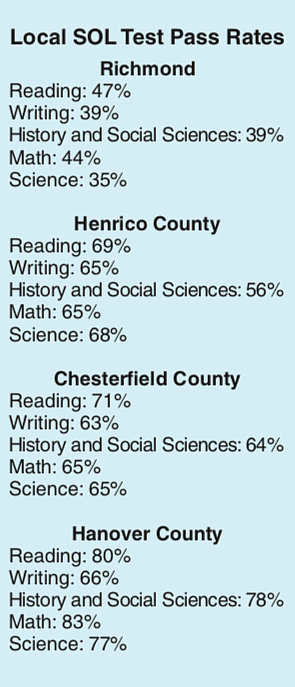 Virginia students continue to struggle academically, according to the latest results from the state's Standards of Learning tests.
The results, released last Thursday by the Virginia Department of Education, show a statewide student body whose grasp of reading, writing, history, math and science is largely unchanged or slightly improved from the previous school year, and that still falls below SOL results before the COVID-19 pandemic.
Reading SOL tests across the 2022-2023 school year saw a 73% pass rate, a drop in overall results from 78% during the 2018-2019 school year. Roughly 69% of students in the state passed the math SOL test compared to 82% before the pandemic. Writing rates have also dropped by four percent for another year, and are at 65%.
The results underline what VDOE officials, writing in a state- ment, saw as "significant and persistent learning loss in reading and math" for third- to eighth-grade students, with more than half failing or at risk of failing the reading SOL tests and two-thirds failing or showing low proficiency on their math SOL tests.
African-American and Latino students from third to eighth grade experienced the largest declines in reading performance from pre-pandemic to 2023, with an 8% and7% decline, respectively. Both groups also had the biggest declines in math performance in that same timeframe, with both now at 20%.
The report also noted that instances of chronic absenteeism had doubled from pre-pandemic levels. Students in grades three through eight who missed over 18 days of school scored 18 and 25 percent lower in reading and math SOL tests, respectively. It was this absenteeism, alongside learning loss from changes in instruction at the start of the pandemic, that education officials saw as the biggest factors in the SOL results.
"Grade three through eight Virginia students are still strug- gling to recover the learning loss from the pandemic and are not performing as well as their pre-pandemic peers," Superintendent of Public Instruction Lisa Coons said. "The 2022-2023 SOL data demonstrates just how important school attendance is for students' academic success."
VDOE's findings and data provoked several responses from officials locally and statewide. Richmond school officials discussed reading SOL results Monday evening during a School Board meeting. Reading foundational skills and language comprehension were cited as areas still in need of work to ensure improvement not just on reading SOL tests, which saw a 47% pass rate for the third year in a row, but other areas of learning that could be impacted by poor literacy.
In a statement, Richmond School Board Member Shonda Harris-Muhammed expressed her joy at seeing instances of improvement from Richmond students in writing, history, math and science, but was concerned about the "academic strength of our school division," and saw a different cause for disappointing student performance.
"We cannot blame our scores on the total impact of the pandemic," Ms. Harris-Muhammed said. "Our 2021 school climate and culture survey speaks volumes to the academic and operational work we need to do as a school division."
"I am convinced, as a school board representative, the school division must do better to obtain successful results. Until adult behaviors change, student outcomes will remain the same."
The same day that the SOL results were released, Gov. Glenn A. Youngkin announced a new initiative, ALL IN VA, that seeks to address learning loss due to the pandemic and improve student academic performance through the $418 million in funds that is set to be allocated to districts in the state budget.
The plan recommends school divisions use 70% of the allocated funding for intensive tutoring programs, 20% to accelerate the use of the Virginia Literacy Act up to the eighth grade and 10% to create a response to chronic absenteeism. VDOE will provide support across these three areas, including resource guides for school attendance, regional support networks, models of high dosage tutoring and more.
"The ALL IN VA plan fosters collaboration and partnership between school divisions, our Department of Education, community leaders and most importantly, students and their parents," Gov. Youngkin said. "I challenge all of us to work together with urgency to create a brighter future and deliver the education our students in the Commonwealth were robbed of for far too long."
Richmond education leaders have so far not discussed ALL IN VA, as questions around its implementation and other details still remain. Other education leaders in the state, however, expressed their skepticism of what the Youngkin administration had put forward as a solution to improve student performance.
"For the second year in a row, rather than take accountability for his administration's failures, Gov. Youngkin continues to blame languishing SOL scores on anyone but himself," VEA president James J. Fedderman said in a statement. "The governor came into office promising to transform public education, but after two years all he has to show is a string of bungled proposals, administrative scandals, a proposed budget with cuts to K-12 spending in the second year, and stagnating test results."
"We need lawmakers to come together in the coming year to adequately resource programs for intensive tutoring, reading specialists, and proven attendance interventions, rather than just paying lip service to the ideas."
The school accreditation ratings for the 2023-2024 school year are to be released by VDOE later this month.