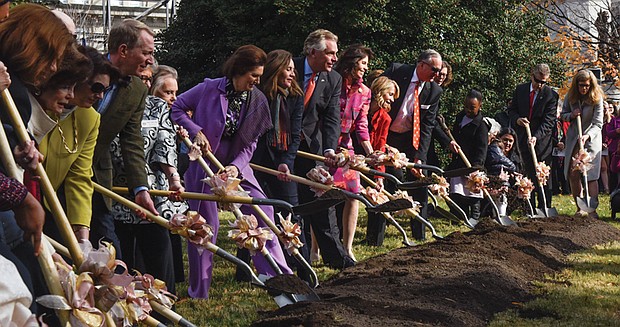 Gov. Terry McAuliffe, center, and his wife, First Lady Dorothy McAuliffe, to his right, are flanked by former Virginia first ladies Lynda Bird Johnson Robb (in purple) and Susan Allen (in pink) as they break ground Monday for the monument in Capitol Square that will honor women's roles in Virginia's history for more than 400 years.
Stories this photo appears in:

Hundreds attend groundbreaking ceremony for new monument in Capitol Square
Virginia First Lady Dorothy McAuliffe was joined by Lynda Bird Johnson Robb and Susan Allen, two former first ladies, for Monday's groundbreaking ceremony for "Voices from the Garden," Virginia Women's Monument. On the sunny and brisk day, state officials, special guests, donors and hundreds of visitors from across the commonwealth attended the ceremony at Capitol Square.