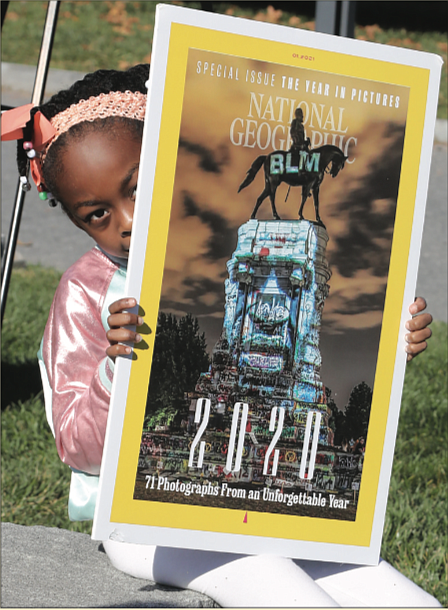 Storie Nzassi, the 7-year-old granddaughter of Delegate Delores L. McQuinn of Richmond, holds
an enlarged copy of the cover of National Geographic Magazine's January edition featuring a projection of George Floyd's face
on the statue of Confederate Gen. Robert E. Lee in Richmond. The Monument Avenue statue became a rallying point for protesters against police brutality and racial injustice following Mr. Floyd's death in May
at the hands of a Minneapolis police officer. Images representing the struggle for civil rights and equality in the United States were projected onto the monument by Richmond artists Dustin Klein and Alex Criqui and photographed by Kris Graves for the cover. The youngster was attending a news conference last Friday with her grandmother at the Virginia Museum of Fine Arts, where Gov. Ralph S. Northam proposed $11 million in state funds be used to transform Monument Avenue.