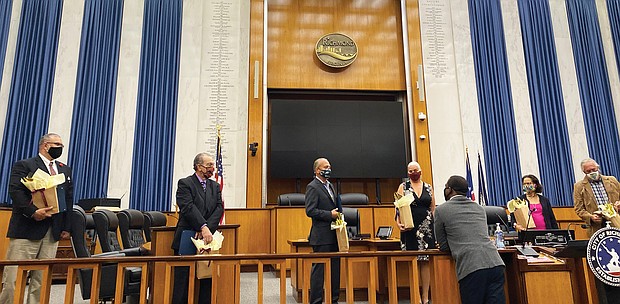 Mayor Levar M. Stoney, front center, talks with special guests at a ceremony Oct. 9 in Richmond City Council Chambers proclaiming Monday, Oct. 12, as Indigenous Peoples' Day in the city.
This is the second year the city has honored the day, which was formerly dedicated to Christopher Columbus, who many view as exploiting indigenous people.
In June, a statue of Columbus was pulled down from its perch in Byrd Park by protesters and dragged into Fountain Lake. The city now has the statue in storage.
Guests at the ceremony are, from left, Keith Anderson of Portsmouth and Chief Samuel Bass of Suffolk, both of the Nansemond Indian Nation; Reggie Tupponce Jr. of Glen Allen, administrator of the Upper Mattaponi Indian Tribe; Shereen Waterlily of Richmond, a representative of the Mattaponi Tribe; Dr. Denise L. Walters of Henrico, a member of the Nottoway Tribe Council; and Pamunkey Chief Robert Gray of King William County.
Monday also was proclaimed Indigenous Peoples' Day in Virginia for the first time. In a statement, Gov. Northam said the state and the nation "too often failed to live up to our commitments with those who were the first stewards of the lands we now call Virginia — and they have suffered historic injustices as a result.
"Indigenous Peoples' Day celebrates the resilience of our tribal communities and promotes reconciliation, healing, and continued friendship with Virginia's Indian tribes," the statement continued.
"In making this proclamation, we pay tribute to the culture, history, and many contributions of Virginia Indians and recommit to cultivating strong government-to-government partnerships that are grounded in mutual trust and respect." Virginia is home to 11 state-recognized Indian tribes, seven of which also are federally recognized.