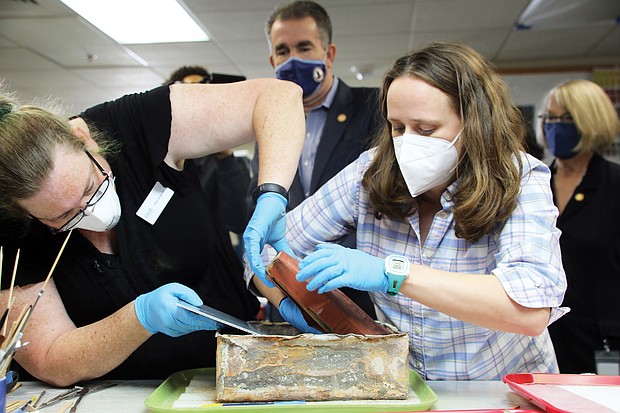 Kate Ridgway, left, state archaeological conservator with the state Department of Historic Resources, helps Sara Donovan, a conservator with the University of Virginia's Special Collections, lift items on Wednesday from the time capsule that was buried in the Lee monument pedestal for more than 130 years. Gov. Ralph S. Northam, center, was asked to help remove the lid of the sealed lead box, where an old coin, three books and an envelope containing a photo with the text "James Netherwood, The Master Stone Mason" were found.
Stories this photo appears in:

A rust-colored 1875 almanac, a cloth envelope and a silver coin were found Wednesday in a time capsule that had been buried beneath a towering statue of Confederate Gen. Robert E. Lee on Monument Avenue for more than 130 years.