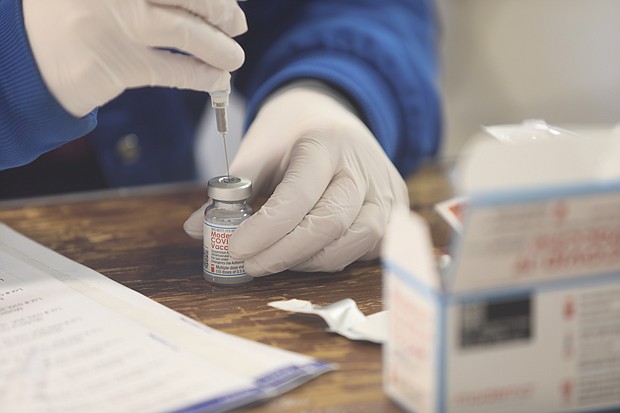 Terri Roe, a registered nurse with Henrico County Public Schools, fills syringes with the Moderna coronavirus vaccine Jan. 21 at the Old Dominion Building at the Richmond Raceway, where the Richmond and Henrico health districts are conducting mass inoculations.
Stories this photo appears in:

The Richmond and Henrico Health Districts are holding special vaccine events for children ages 5 to 11 in partnership with Richmond Public Schools and Henrico County Public Schools.

Project Restore and E.Y.P.C., Empowering Youth for Positive Change, are holding a Community Outreach Day 11 a.m. to 3 p.m. Saturday, Sept. 11, at the Jefferson Davis Flea Market, 5700 Jefferson Davis Hwy. in Chesterfield County.

Kiara Gresham has been busy with the demands of her new small business, Cookie Jar Honeypot, and the need to ensure the education, health and well-being of her children during the pandemic and a virtual school year. With summer getting closer and the new school year months away, Ms. Gresham is taking on a new task: Learning all she can about vaccinating her two older children, Queron, 14, and Kaeoni, 12, against COVID-19.

Virginia's teachers, grocery store workers and the elderly are facing delays in getting inoculated against COVID-19. A sharp reduc- tion in the supply of vaccine has left local health departments, including Richmond's and Henrico's, without enough doses to meet demand.