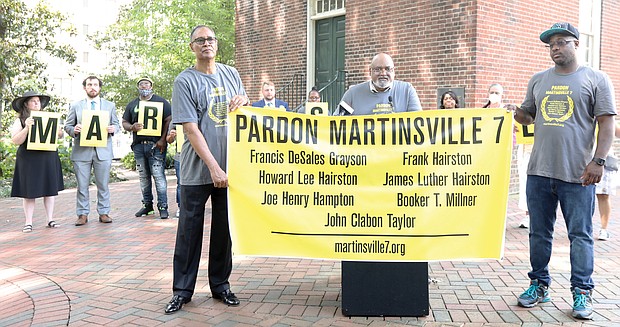 Former Richmond Mayor Rudolph McCollum Jr., center, speaks Tuesday at a rally in Capitol Square that turned into a celebration after Gov. Ralph S. Northam announced he had given posthumous pardons to the Martinsville Seven. Holding the banner are Timothy R. Thomas, left, and Craig Watson. Mr. McCollum's uncle, Booker T. Millner, and great uncle, Francis DeSales Grayson, were among the seven men executed in 1951.
Stories this photo appears in:

Gov. Ralph S. Northam uses his power to help right a decades-old wrong in which seven Black men from Martinsville were executed in 1951 without due process
It took 70 years, but the Martinsville Seven have finally been pardoned.