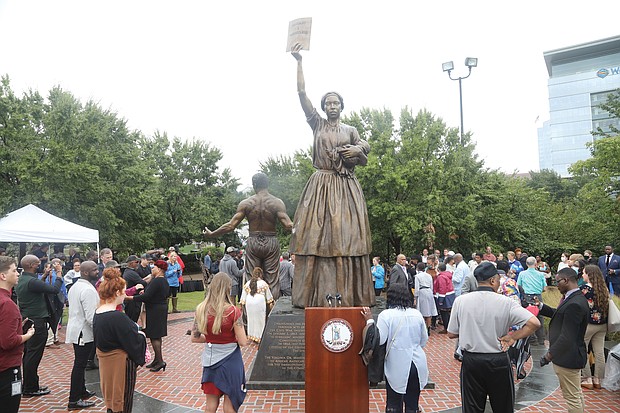 The monument was designed by Thomas Jay Warren of Oregon and shows a man, woman and child newly emancipated from enslavement. The man's back is lined with scars from whipping and the woman is holding aloft a copy of the Emancipation Proclamation. The base contains the names and brief descriptions of 10 Virginians who contributed to the fight for freedom and equality before and after emancipation. They are slave rebellion leaders Gabriel and Nat Turner; Dred Scott, whose unsuccessful lawsuit for his freedom led to the 1857 U.S. Supreme Court decision declaring that people of African descent had no rights under the U.S. Constitution; William Harvey Carney, who fought with the Massachusetts 54th Infantry Regiment of the U.S. Colored Troops and was the first African-American to receive the Congressional Medal of Honor; and Mary Jane Richards Bowser, a spy in the Confederate White House in Richmond who provided useful information to Union officials. Also, the Rev. Wyatt Tee Walker, co-founder of the Southern Christian Leadership Conference and chief of staff to Dr. Martin Luther King Jr.; John Mercer Langston, Virginia's first African-American representative in Congress; Lucy Simms, an teacher who advocated for universal education; John Mitchell Jr., the fiery newspaper editor of The Richmond Planet who led a boycott of Richmond's segregated trolley system and was the first African-American to run for governor of Virginia; and Rosa Dixon Bowser, educator and women's rights activist who founded the first African-American teachers association in Virginia and the Virginia State Federation of Colored Women's Clubs.
Stories this photo appears in:
"Overwhelming!" "Excited!" "Proud!" Those were some of the comments from onlookers as they viewed the state's new "Emancipation and Freedom Monument" that was unveiled Wednesday on Brown's Island on the James River in Richmond's Downtown.