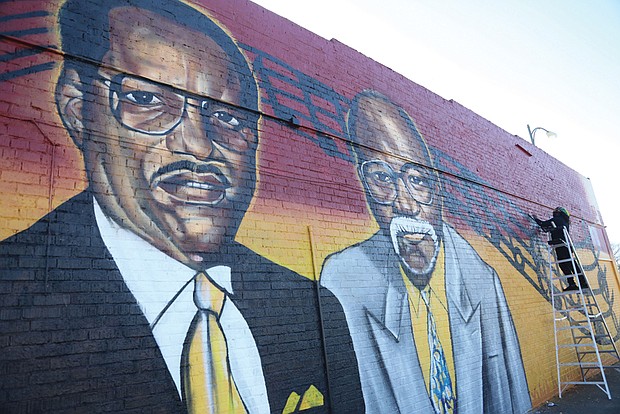 Sir James Thornhill puts the finishing touches on his latest mural, a salute to the founders of the storied Regular's Social Club in North Side.
Marking its 64th year, the private men's club commissioned the Richmond artist to create this tribute to founders, from left, the late Robert L. Harvey Sr. and Raymond Eldridge, on the north wall of the club's home at 2521 Chamberlayne Ave. The two men, fed up with the exclusionary practices of other private Black clubs, joined with friends to start a group for ordinary workers like themselves, Mr. Harvey being an employee of A.H. Robins Co. and Mr. Eldridge being a letter carrier.
"They called it the Regular's Club because it was just for regular guys," said Jesse J. Harrison III, a 50-year member who has served as the treasurer for several decades and is a former board chair.
Established in 1959, the club started with members going to each other's houses, Mr. Harrison said. The club moved into the Chamberlayne Avenue building around 1971, he said, first renting and then purchasing it.
The club has hosted parties on weekends for members and guests, but has scaled back to monthly events since the pandemic, Mr. Harrison said. The club currently has about 40 members, he said, with room for more. Dues are $45 a month, he said.
Mr. Thornhill said he was delighted to be called on to create the mural. He noted that social clubs have a long history in Richmond's Black community and that he was proud to help call attention to a place that has been around so long.
"This is part of telling the full story of the community," he said.