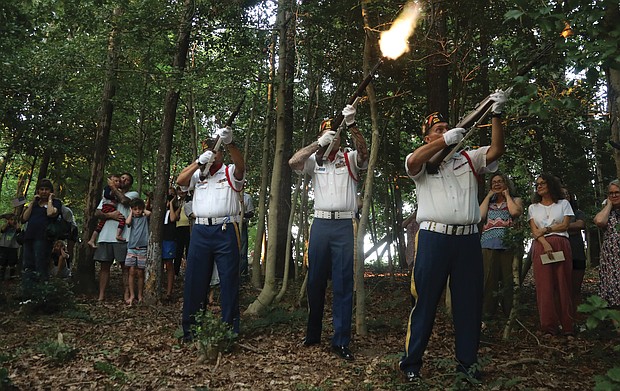 Members of the Veterans of Foreign Wars Post 9808 in Mechanicsville lead a three-volley salute during a twilight memorial ceremony July 28 held at the Sons and Daughters of Ham Cemetery near Bandy Field in Henrico County. The ceremony, held on National Buffalo Soldiers Day, honored Moses Bradford Jr., a Buffalo Soldier who served in the 25th Infantry during the Spanish-American War. He is buried in the cemetery.
Stories this photo appears in:

The Sons and Daughters of Ham Cemetery, a historic Black cemetery that neighbors the University of Richmond and the city's Bandy Field Nature Park, will be rededicated on Thursday, July 28, it has been announced.
The year 2021 was a tug of war between the life changes precipitated by the COVID-19-related shutdowns of 2020 and efforts to return to a pre-COVID way of life.