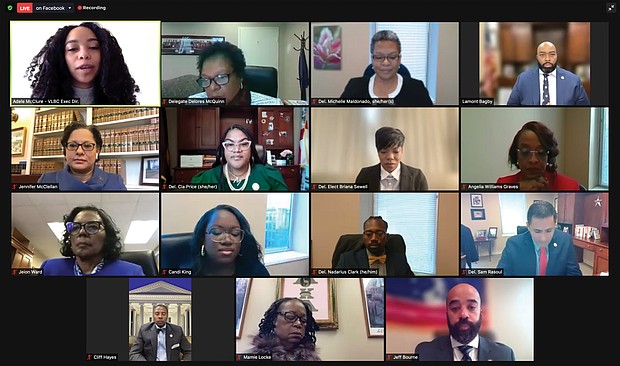 Members of the Virginia Legislative Black Caucus offer details Wednesday on their legislative priorities for the 2022 session of the General Assembly just hours before the session's noon start.
Among the priorities: Fully funding public education; ending solitary confinement; preventing evictions; universal paid family and medical leave; strengthening employment discrimination and harassment laws; equity in renewable energy development; and protecting recent progress, including the new Voting Rights Act of Virginia, the repeal of the death penalty, the increase in the state's minimum wage and legalization of marijuana.
VLBC members attending the virtual news conference are: Top row from left: Adele McClure, VLBC executive director; Delegate Delores L. McQuinn of Richmond; Delegate Michelle Maldonado of Manassas; and Delegate Lamont Bagby of Henrico, VLBC chairman.
Second row from left: Sen. Jennifer L. McClellan of Richmond; Delegate Marcia S. "Cia" Price of Newport News; Delegate Briana Sewell of Prince William County; and Delegate Angelia Williams Graves of Norfolk.
Third row from left: Delegate Jeion A. Ward of Hampton; Delegate Candi King of Stafford; Delegate Nadarius Clark of Norfolk; and Delegate Sam Rasoul of Roanoke.
Bottom row from left: Delegate C.E. "Cliff" Hayes Jr. of Chesapeake; Sen. Mamie Locke of Hampton; and Delegate Jeffrey M. Bourne of Richmond.