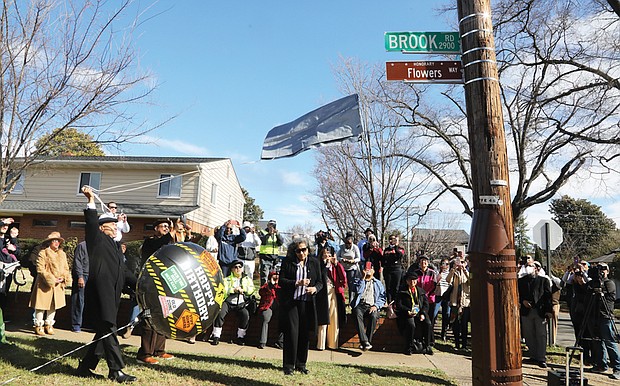 At the corner of Hammond and Brook Road in Richmond's Edgehill neighborhood, Gary Flowers, left, pulls the signage cover strings Monday, as his sister, Jan Flowers, stands with him. Along with other family, friends and neighbors, the son and daughter of Stafford Alvin Flowers and Ella Lee Fountain Flowers unveil the honorary street sign, Flowers Way, that honors their father and mother.
Stafford Alvin Flowers, who died in 2011, was a brick mason and owner of a contracting business. He also was a co-founder of the Metropolitan Business League, and a regional director for the National Business League, which evolved from the Negro Business League founded by Booker T. Washington in 1900. Ella Lee Fountain Flowers, a former Virginia Union University and Richmond Public Schools educator, died May 15, 2022. Mrs. Flowers was an 80-year member of Delta Sigma Theta Sorority and a lifelong member of the NAACP, serving as the secretary for the Richmond Chapter.
The street dedication was initiated by 3rd District North Side City Council woman Ann-Frances Lambert, who wants the history of Black Northside Richmond locked in for all to know. She reminded people that a large percentage of Black Americans, when researching their genealogy, realize they have a connection to Richmond.