Democrats choose Dance
She is the nominee to replace Marsh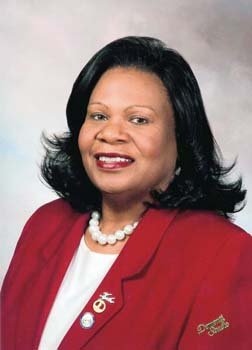 Petersburg has long played second fiddle to Richmond.
On Saturday that changed.
Petersburg Democrats emphatically delivered the message: "Enough."
They strongly backed Delegate Rosalyn R. Dance to be the Democratic candidate for 16th District Senate seat, previously held by Henry L. Marsh III.
Voters in Hopewell and Chesterfield, Dinwiddie and Prince George counties also backed Delegate Dance, 66, in the "firehouse" primary the party held Saturday to select its champion.
Those areas provided enough votes to make the retired nurse the winner by a 350-vote margin over her closest rival, Richmond Delegate Delores L. McQuinn, who only won the two city precincts.

As expected, only a tiny fraction of the estimated 113,000 eligible voters turned out.
Of the 3,956 votes cast in the district's 12 polling locations, unofficial results show Delegate Dance received 1,725. Delegate McQuinn received 1,375 while former Richmond Mayor Rudy C. McCollum Jr. gained 592. Businesswoman Gerry Rawlinson received 108 votes.
Delegate Dance will be heavily favored to win the special election Nov. 4 to fill out the final year of Mr. Marsh's term. He resigned the seat to become a well-paid member of the Virginia Alcoholic Beverage Control Board.
All that's standing in Delegate Dance's way is Richmond businessman Preston T. Brown. He plans to challenge Delegate Dance as an independent in the Nov. 4 election. The winner will have to run for re-election next year for a full four-year term.
Petersburg counted 1,411 ballots, or 6.6 percent of the city's more than 21,000 registered voters. Richmond counted 1,292, or 3.8 percent of the nearly 34,000 residents registered to vote in the 16th Senate District.
Delegate Dance came out of Petersburg with an 810 to 346 vote edge over Delegate McQuinn, a margin of 464 more ballots cast in her favor.
"I love Petersburg, and they proved that they love me back," Delegate Dance gushed in a Facebook post after her win.
Delegate Dance also gained a 282 edge in votes over Delegate McQuinn among voters in Hopewell, Prince George and Dinwiddie and had a net gain of 216 votes in Chesterfield County.
Delegate McQuinn, who received the explicit support of state Democratic Party Chairman and city Mayor Dwight C. Jones, easily won in Richmond, but only 916 voters turned out in the capital city, voting 764 to 152 in her favor.
She did not respond to Free Press queries.
It was a big show of support by Petersburg, where nearly 80 percent or more than 25,000 of the city's population of 32,000 are African-Americans.
The recession and government cutbacks at nearby Fort Lee have hammered the city.
Data show more than one in four Petersburg residents live at or below the poverty level and more than 40 percent of the city's children live in poverty.
Delegate Dance has represented the 63rd House district since 2005 and previously served 12 years as Petersburg's mayor and a member of City Council.
Some pundits claimed Mr. McCollum's 11th-hour entry into the race paved the way for Delegate Dance by siphoning crucial votes from Delegate McQuinn.
Regardless, Delegate McQuinn failed to turn out a big Richmond voting bloc despite the endorsements of Richmond council members whose districts are inside the Senate district, including council Vice President Ellen F. Robertson, 6th District; Cynthia I. Newille, 7th District; and Reva M. Trammell, 8th District.
Rev. McQuinn also earned the support of more than two dozen ministers.
Delegate McQuinn's defeat also appeared to be a rebuke to Mayor Jones, who endorsed her in an automated phone call that went out to thousands of households in the district last Friday.
The mayor called Delegate McQuinn "a true Democrat" who would support "President Obama's Medicaid expansion 100 percent."
That was a reference to Delegate Dance's lack of support of Medicaid expansion. Her critics, including the Free Press, which backed Delegate McQuinn in the race, cited her support of a House budget in committee and on the floor that did not include expansion of Medicaid.
Delegate Dance, Mr. McCollum and others criticized the mayor's endorsement, saying the state party leader should not endorse a candidate in a party nominating contest.
Democratic Party of Virginia rules prohibits the party and any of its elements from "formally endorsing contested candidates for office prior to nomination."
Delegate McQuinn's campaign manager Craig Bieber said Chairman Jones endorsed her in his capacity as mayor. He said Mayor Jones and Delegate McQuinn are longtime friends and political allies.
Delegate McQuinn, chair of the Richmond Slave Trail Commission, has ardently backed the mayor's plan to build a baseball stadium, heritage center, grocery store and hotel in Shockoe Bottom.
Some cynically suggested the mayor backed Delegate McQuinn in hopes she would win, opening her House of Delegates' seat for a run by his son, the Rev. Derik Jones, currently a member of the Richmond School Board.
Mayor Jones and Delegate Dance made peace after the dust had settled.
"While we still have a ways to go in certifying the results, we'd like to congratulate Delegate Dance and look forward to electing another Democrat to continue the legacy of Henry Marsh in the state Senate," Mayor Jones stated in a release through the Democratic Party of Virginia.
"I thank Chairman Dwight Jones for his conciliatory message that he is willing to work with me and help me through the November election," Delegate Dance stated in a release.
State Sen. A. Donald McEachin of Henrico, chairman of the Senate Democratic Caucus, told the Free Press that Delegate Dance "is as welcome to the caucus as flowers in the springtime.
"I think she'll be an excellent caucus member, and I look forward to working with her in January," he added.