Back-to-school challenges
Academics, buildings top Richmond's list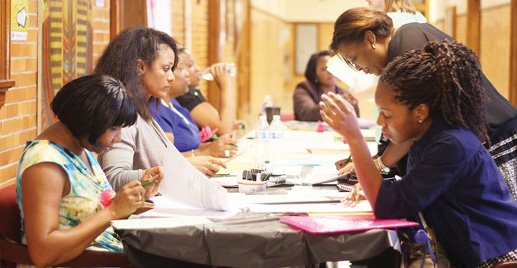 More than 23,000 Richmond students will pour into classrooms next Tuesday to begin the new school year.
It also will begin the first full year for Superintendent Dana T. Bedden.
And as usual, the city's schools face an uphill climb.
Among the bright spots for the school system are the new school buses that some students will ride.
In addition, every student will be offered free breakfast and lunch as a result of Dr. Bedden's effort to take advantage of a new federal initiative to fight child hunger.
But those pluses are overshadowed by the abysmal scores on state Standards of Learning tests taken last spring.
An alarming number of Richmond Public Sschools students are reading and writing below their respective grade levels, according to results the state Department of Education released Wednesday.
Only one-third of city students passed the eighth-grade reading test. The percentage was the same for sixth-grade math.
The percentage of students able to pass sixth- and seventh-grade reading and eighth-grade writing also fell below 50 percent.
On 22 of the 34 SOL assessments, fewer than 70 percent of Richmond students scored a passing grade. In sharp contrast, students in the surrounding counties of Chesterfield and Hanover reached the 70 percent mark on every test. Henrico County students hit the mark in 29 of the 34 tests.
An equally distressing issue for Richmond is the physical condition of many of the buildings the students will attend.
A report released three weeks ago raised alarm on that front.
But apparently, there appears to be no rush on the part of the school system or the city to deal with what were described as much-needed repairs.
Thomas E. Kranz, the school system's assistant superintendent for support services, said earlier this month that $29 million was needed to resolve immediate operational and safety issues at 44 city schools.
While he estimated the price tag at $35 million, Mr. Kranz now appears to be satisfied with the $6 million he now has available for such repairs. He no longer is expressing alarm.
During a tour of four aging schools Tuesday, Mr. Kranz said all immediate needs for the coming school year had been taken care of.
"We're on top of it," Mr. Kranz said. "The schools will be ready to go Tuesday."
That includes Fairfield Court Elementary, which was closed last spring after its roof sprang leaks and a ceiling tile fell on a child.
Students were moved to the vacant Clark Springs Elementary School building, which had been shuttered in 2013.
Schools spokeswoman Cletisha Lovelace told the Free Press that Fairfield Court Elementary has been repaired and will reopen with the rest of the schools Tuesday.
And so the question still remains: How urgent is the need for the $29 million?
"Do we need that money tomorrow? No," Mr. Kranz said. "But there are repairs (such as pipes at Thomas Jefferson High School) that are definitely needed.
"If we hold off too long, what if the HVAC system at a school fails? Say it's the middle of May, and it's 90 degrees outside. It would take at least a week to get it fixed (without having the funding already secured.)"
Kristen Larson, vice chairwoman of the School Board, was on the tour. She reiterated the need to secure funding, but added that the board needed more information before making an official request to City Council.
"The $29 million figure came from the school system doing its due diligence," Ms. Larson told the Free Press. "We're trying to be preemptive.
"That being said, if we were given $29 million tomorrow, would we be happy? Sure. But there are other factors, particulars about financing, that we need to get into."
City Councilman Parker C. Agelasto, 5th District, also took part in the tour.
"I think it's good that different parts of the city government are getting together to talk about these things," he said.
"But the challenge I'm seeing is about capacity. There's this idea of right-sizing that I disagree with."
Mr. Agelasto has come out strongly in opposition to closing school buildings, an idea for which Mayor Dwight C. Jones and others have voiced support.
Meanwhile, Mayor Jones and City Council Vice President Ellen F. Robertson — among others — have emphasized so-called "right-sizing." They believe some schools are underpopulated and could be consolidated, with more students moved to one building.
"Richmond is Richmond," Mr. Agelasto said. "Our population is our population.
"You can do right-sizing by redrawing district lines. You don't have to tear down buildings."
Ms. Robertson did not respond to a Free Press email query about the tour in which she participated.
Mr. Agelasto contrasted the new Huguenot High School to other schools, such as the 54-year-old George Wythe High School in his district.
"Look at Thompson Middle School," he said. "Half of those students will go to Huguenot, while the other half will go to George Wythe."
The councilman added that students have to "want to go to school."
"We have to make it something they look forward to," he said. "And they know they'll be safe, they know the roof isn't going to fall in on them."
Mr. Agelasto cited a conversation he had with Lashante Knight, principal of Albert Hill Middle School in the West End.
"They need desks — desks," Mr. Agelasto said. "It's such a basic need. I went to the warehouse, and the desks I saw there were from the 1960s.
"They were pink."
The councilman also asked Brenda Phillips, principal of the 60-year-old John B. Cary Elementary School, about her school's needs.
"She said, 'Well, we'd like to get the walls painted,'" Mr. Agelasto said.
"I think before we make big, more complicated improvements, we have to take care of these basic things.
"These facilities need investment."