Fate of East End school on hold
8/4/2017, 7:55 a.m.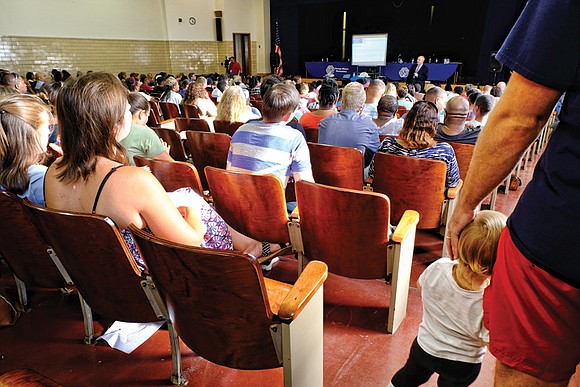 By Holly Rodriguez
When students, teachers, staff and administrators walk into George Mason Elementary School, two welcome mats greet them, each bearing the school's name. The first one says "Expect the Best," and the second says "Moving from Good To Great."
Both messages are a sharp contrast to the conditions facing students and staff beyond the front doors, as parents, educators, alumni and area residents passionately expressed to the Richmond School Board on Monday night.
At a community forum held at the school once attended by Richmond native L. Douglas Wilder, the first African-American elected governor in the United States, people described foul conditions including live and dead mice, the daily cleanup of vermin droppings, roaches, leaking pipes causing ceiling tiles to cave in, the pungent stench of urine from leaking bathrooms permeating hallways and classrooms, students wearing coats in the winter to keep warm and being moved out of classrooms in the spring because of intense heat.
The purpose of the forum was to get community feedback on eight options the School Board outlined to address and resolve chronic problems at the school at 813 N. 28th St. in the East End.
Despite these complaints, and student and teacher reports about health issues ranging from headaches to asthma, interim Superintendent Tommy Kranz repeatedly has said the building is safe. In a presentation to the auditorium packed with nearly 200 people, Mr. Kranz said air quality tests in November and July showed that the building is safe.
Several speakers, sharing their frustration, said there is a difference between safety and an environment conducive to learning.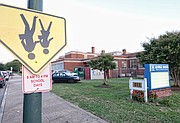 Hope Talley, a fourth-grade teacher at George Mason, wears a mask to protect her from allergy flareups that are aggravated by conditions at the school that was built more than a century ago.
"If I don't wear my mask, I get severe sinus headaches, nose drainage and I'm in the bed for two days, minimum," she said.
Ms. Talley said the stench from decaying vermin trapped in her classroom walls forced her class to move to a computer lab for two weeks during preparations for Standards of Learning tests.
Ms. Talley, who began teaching at the school in 2006 after working as a paralegal in Washington for nearly 20 years, said acute problems at George Mason have been remedied with temporary patchwork repairs.

"Our children deserve better. Expensive Band-Aids across the district are not a solution," Ms. Talley told School Board members. "We need you to have a plan."
Mr. Kranz said repairs to the school have been on the district's radar for years, but plans have been stifled by lack of money.
"Dating back to 1995, there have been recommendations to build a new George Mason Elementary School and it has remained at the top of the capital projects list ever since," he told the Free Press in an email on Tuesday. "Unfortunately, this has not happened due to limited capital funding resources and a prior decision to redirect the monies by our funding body."