Taqqi Muhammad is John Marshall's 'Big D'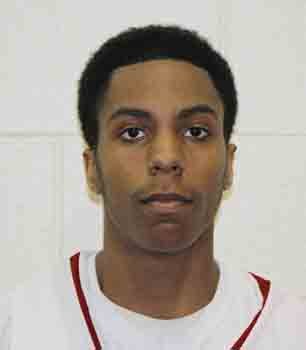 The casual basketball fan may not pay much attention to defense, but coaches and scouts surely do.
That's the prime reason Taqqi Muhammad is held in such high esteem at Richmond's John Marshall High School, and why the senior has landed a full scholarship to the University of North Carolina-Greensboro.
In fact, at John Marshall, they've begun writing his name MuhammaD — because he's all about the big D — defense.
"Taqqi has embraced the challenge of tight defense," said Ty White, coach of the John Marshall Justices. "He guards the other team's best guy night in and night out."
For an offensive player, trying to shake the lithe, long-stemmed 6-foot-4 Muhammad might be compared to trying to get away from your own shadow.
Posting a 22-5 record, John Marshall won the State 3A title a year ago and is a logical choice to repeat this winter, with four returning starters and two talented transfers.
Muhammad will anchor the defense Dec. 6 when John Marshall opens in Portsmouth against State 4A champ I.C. Norcom High School.
"It's a heavy responsibility," said Muhammad of his defense, "but I take pride in it. My goal is to stop the other team's top scorer."
An all-round talent, Muhammad averaged 11 points, four rebounds and two assists while hitting 59 percent from the floor in 2013-14.
He is the captain of the John Marshall team this season, winning numerous honors for his skills on the court. VirginiaPreps.com named him First Team All-Underclassmen in the state last year. He was named Second Team All-Underclassmen as a sophomore when he helped the Justices finish as a state runner-up.
He also plays AAU Basketball for Team Loaded Virginia.
His parents have much to be proud of. He is the son of Minister Tracy and Jeanette Muhammad. His father leads Muhammad Mosque #24 on Cowardin Avenue.
Muhammad signed his NCAA Letter of Intent to attend UNC-Greensboro Nov. 13 in the John Marshall school library.
UNC-Greensboro, coached by former UNC guard Wes Miller, plays in the NCAA Division I Southern Conference.
Last season, Muhammad's defensive targets featured a Who's Who of Virginia talent — Devin Robinson of Christchurch School, Benedictine High School's Robert Johnson, Cape Henry Collegiate's Chris Clarke, Thomas Jefferson High's Kadeem Wright and Lord Botetourt High's Justin Goode (3A Player of the Year).
JM's cup runneth over with talent.
Returning starters are top scorer Jeremy Sheppard (19.6); leading rebounder Greg Jones (7.1); tallest player Nate Williams, who is 6-foot-8; and defensive titan Muhammad.
The only departed first stringer is guard Quaman Burton, now on scholarship at Lincoln (Pa.) University.
Transferring to the North Side school are 5-foot-11 guard Raquan Waller from Highland Springs High School and 6-foot-4 Tre Patterson from Armstrong High School.
Among last year's reserves, Xavier Trent and Jay Broaddus have shown vast improvement.
To avoid complacency, coach White has compiled a demanding schedule topped by a Jan. 24 meeting with Orangeville Prep at Virginia State University.
Located in Ontario, Canada, Orangeville features 7-foot-1 junior Thon Maker, arguably the No. 1 NCAA prospect. Maker transferred to Orangeville from Carlisle School in Martinsville.
Other John Marshall foes this season include State 6A champ Colonial Forge, Dec. 9 at John Marshall; Benedictine, Feb. 7 at Trinity Episcopal; Cape Henry Collegiate of Virginia Beach, Jan. 17 at Bishop Sullivan in Virginia Beach; Landstown High School in Virginia Beach Jan. 3 at Virginia Wesleyan; and Thomas Jefferson Jan. 9 and Feb. 6 at the Arthur Ashe Center in Richmond.
In late October, John Marshall gave a preview of what it has to offer, winning the Hampton
Roads Fall League. The Justices defeated I.C. Norcom 54-48 in the finals at the Boo Williams SportsPlex in Hampton.