Great memories won't fade in new Huguenot gym
Fred Jeter | 12/19/2014, 5:55 a.m.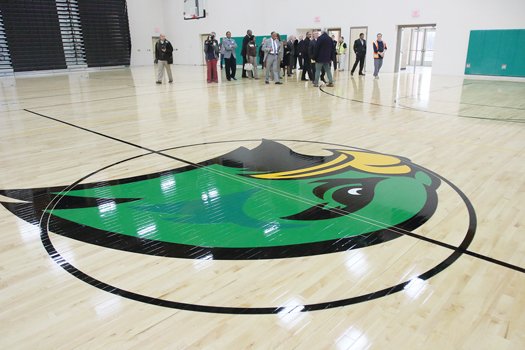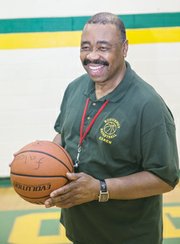 On Jan. 5, the new Huguenot High School will open, replacing the original school building on Forest Hill Avenue.
But before someone flicks the old gymnasium light switch off for the final time, reminiscing is in order.
Turning the time machine back, all the way to 1960 when the school opened, let's dust off the scrapbook and take a stroll down memory lane.
Here's a look at a few of the athletes in green and gold who lit up the old scoreboard and wore out the nets for all those decades at the Falcons' Roost.
Pat Allen: In the early years, when Huguenot High was part of the Chesterfield school system, he once scored 54 points in a game.
Bob Ware: This bruising 6-foot-5 post player also was a star baseball pitcher. He was drafted by the Detroit Tigers in 1967.
Jim Hewitt: After a standout career with the Falcons, he played basketball at the University of Richmond from 1969 to 1971.
Bob Schumann: He was a final All-Metro star prior to Huguenot High's annexation into Richmond in 1970.
Realious Trent: He was another two-time All-Metro. A Richmond headline once read "Realious is for Real."      
Thomas "T" Alston: He went on to play for Longwood University in the NCAA Division III Final Four in 1980.
Gerald Henderson: This All-Metro Falcon was part of three NBA championships — 1981, 1984 and 1990 — after scoring 1,542 points for Virginia Commonwealth University.
Junius Lewis: Standing 6-foot-9, this "Tower of Power" would become a two-year starting center at West Virginia University.
Ricky Stokes: He played JV hoops only for Huguenot. Later, he had a starring role for the University of Virginia.
Isaiah Morris: After leaving Huguenot High, this 6-foot-8 Falcon was the key man on the University of Arkansas' 1994 NCAA championship squad.
Ted Berry: This high-flying guard known as "Fats" scored 1,352 points at Christopher Newport University and played pro ball overseas.
Leroy "Bo" Jones Jr.: An All-Metro guard under his dad, Bo Jones Sr., he scored 1,334 points in just three seasons at VCU.    
David Terrell: Before becoming a University of Michigan All-America tight end and NFL first round draft choice, he was an All-Metro hoops standout.
Raynard Twitty: A tremendous talent, he lost his life in a tragic shooting.
Juan Wilson: This Falcon was valedictorian of the Class of 2009. He went on to become a four-year regular at Virginia Union University.
Jonathan Crawley: Also a tremendous football lineman, he stuck with hoops and was All-CIAA at St. Augustine's University.
There are so many more — Franklin Berry, Andre Morris, Michael Puckett, Mi'Kyel Nero, David Brown, Chris Jones, Emery Outland, Jareese Cooley and Sean Miller, just to scratch the surface of Huguenot's all-time star cast.
There was team success along with individual stardom. Huguenot won the Central Region title in 1991, defeating Petersburg High School in the finals, and was Region runner-up in 1979, falling to Maggie Walker High.
For five years, Huguenot was one-third of the Jefferson-Huguenot-Wythe complex under coach Bob Booker that won the 1984 State Group AAA championship.
Stars from the Jefferson-Huguenot-Wythe complex included Peter Woolfolk, who went on to play at the University of Richmond; Greg Williams, who played at Virginia Union University; and Alvin Lee, who played at the University of Alabama and VCU.
Falcons coaches through the years included John Bunsavage, George Lancaster, John Siers, Dr. Antone Exum and, most notably, Leroy "Bo" Jones, who has been at the South Side school for the last 40 years in various capacities.
Jones, a former athlete at Maggie Walker High and Virginia State University, will usher the Falcons into the next era at the brand new Huguenot High building. The new Huguenot is about four times the size of the old building and will have a sparkling 2,500-seat gym.
Coming off a disappointing 2014 season, Jones has high hopes for a current lineup featuring senior Evan Cain, junior James Peebles and sophomore Derrick Redmond.
Moving on, Jones says:
"We've had lots of good times in the old gym, but you can't dispute progress.
"Now we'll have a facility with all the things we've ever wanted — bigger gym, bigger lockers, bigger offices."
After more than a half century, the original Huguenot gym will go dark for the last time with the flick of a switch.
There will be no turning off the memories, however.