VCU Rams continue wins with 'havoc'
Fred Jeter | 12/29/2014, 12:15 a.m.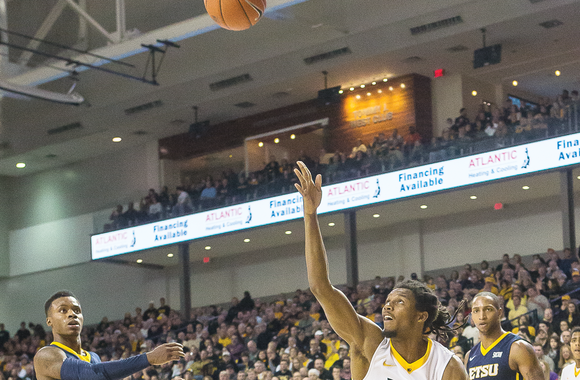 Virginia Commonwealth University Coach Shaka Smart's not-so-secret formula for "havoc" features two main ingredients: Feeding-frenzy defense and the ever-present green light for 3-pointers.
In annihilating East Tennessee State University 84-60 Monday and improving its record to 8-3, the Rams relied on the same combo that has fueled VCU since Smart's arrival in 2009.
Before another sellout crowd at the Siegel Center, the Rams had 18 steals (seven by Briante Weber), forced 22 turnovers, and struck the bottom of the net with 10 3-pointers.
In its previous 68-47 victory at Cincinnati, VCU canned 15 3-point shots (31 of 61 shots overall from outside the arc).
In his sixth season, Smart's "havoc" has produced these remarkable, cumulative numbers:
• 780 more steals than their opponents.
• 866 fewer forced turnovers than their opponents
• 456 more 3-pointers than their opponents (meaning plus 1,368 in points).
And get this: Entering the East Tennessee game, the Rams' Ratings Percentage Index (overall power rating) was a remarkable three out of 351 Division I schools, trailing only Kentucky and Kansas.
A third "havoc" ingredient is mass substitution, assuring fresh legs to continue to challenge weary ball-handlers.
The scorers' table is a busy place. Often, everyone has played by the second media timeout.
Coach Smart's Rams are 12 deep and even walk-on Torey Burston from Trinity Episcopal School in Richmond has played in six games.
It is not inconceivable that VCU will be favored in every game it plays the rest of the season until at least the second round of the NCAA tournament.
In the preseason poll, the Rams were the unanimous pick to win the Atlantic 10 conference title.
There's no one player to key on.
Senior Treveon Graham, averaging 17 points, is chasing the school scoring record.
Weber is on pace to break the NCAA standard for career steals.
Junior Melvin Johnson is another 3-point bombardier averaging 15 points.
Sophomore Mo Alie-Cox is the defensive intimidator, uncoiling his gas-hose like arms in the paint.
High-rising freshmen Terry Larrier and Justin Tillman seem to take turns making highlight reel dunks.
When Smart succeeded Anthony Grant as the Rams' coach in 2009, people questioned the staying power of wreaking "havoc."
Six seasons later, opponents are still chasing — and falling further behind.