Heartwarming return for Albert Hill coach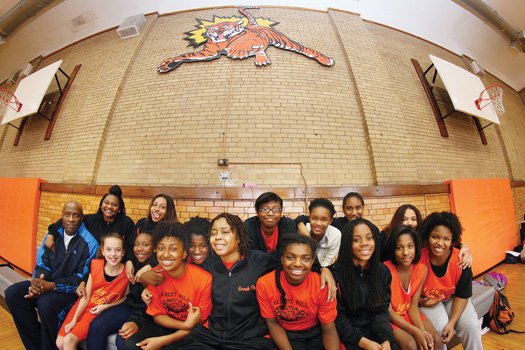 Coach Michele Drayton walked into the Albert H. Hill Middle School gym for the first time since suffering a stroke last month.
The players on her girls' basketball team excitedly ran over, showering her with hugs.
Surrounding her, they applauded and yelled, "Let's win this one for Coach Drayton!"
Putting their hands together in a team huddle, they yelled, "Do it for Coach Drayton! One! Two! Three!"
It was a heartwarming homecoming for the longtime Albert Hill hoops coach, who returned to the team Nov. 4. She suffered a stroke Oct. 2 at her North Side home.
"I felt loved and appreciated," Coach Drayton told the Free Press Wednesday. "It was a special feeling for me to be back and get such a welcome.
"It was like coming home," she added.
Parents of the players, along with her Albert Hill colleagues, walked over and welcomed her back with more hugs and well wishes.
Although still weak from the stroke, Coach Drayton sat on the gymnasium bench and watched as her assistant, Wade Ellegood, coached Albert Hill to a win over Elkhardt in the Richmond Public Schools middle school playoff opener.
"I felt like taking over, but he did a good job," a happy Coach Drayton said afterward of her anxiety of having to watch, instead of coach.
Albert Hill lost its next game to the team from Martin Luther King Jr. Middle School last Thursday in the playoff semifinals.
But the Albert Hill players and Coach Drayton have much to be proud of. The team completed an 11-1 season, which included a 10-0 regular season.
Under Coach Drayton, Albert Hill has recorded four consecutive unbeaten regular seasons and won the middle school league championship in 2011, finishing 13-0.
Coach Drayton, 46, said she knew something was seriously amiss just prior to suffering the stroke. She had been experiencing a series of headaches and felt weakness in her right leg.
Then she fell to the ground while trying to get out of bed that fateful Sunday in October.
She was rushed to the critical care unit at the VCU Medical Center after ambulance medics found her with slurred speech.
Doctors determined she had suffered a stroke and had blood clots in her brain and in her legs.
They cleared the clots with medicine and blood thinners, Coach Drayton said.
The good news is she could still move, walk and talk and never had to use a wheelchair or walker.
"They told me the fact that I was an athlete and was in pretty good shape was probably the reason I didn't suffer more damage," she said.
The doctors attributed the stroke, in part, to the fact that she carries the trait for sickle cell anemia.
Even as she was hospitalized, her thoughts were on her team.
"The players called me almost every day and came to the hospital," she said. "That meant a lot to me.
"I was concerned for them the whole time I was out — that they were going to class and keeping their grades up," she added.
Coach Drayton has enriched the lives of students from her post for the past 15 years at Albert Hill at 3400 Patterson Ave. in the city's West End. She's hoping doctors soon will OK her return to coaching.
When Albert Hill's season ends, she coaches the girls' team at nearby Thomas Jefferson High School. It will be her second season at Thomas Jefferson when she starts. Many of her students from Albert Hill go on to play at Thomas Jefferson.
She also has coached the Drayton Dream Team Amateur Athletic Union boys' basketball team for the past two years. Her son, Brian Stamper, who plays at Thomas Jefferson, is a member of her AAU team.
Before coming to Albert Hill, she coached the boys' basketball team at Amelia High School from 1994 to 1998 and was voted into the Coaches Hall of Fame there. She also coached girls' basketball from 2000 to 2005 at George Wythe High School.
A Brooklyn, N.Y., native, Coach Drayton played basketball at Virginia Union University from 1987 through 1991 and graduated with a bachelor's degree in education. She is an icon in Richmond coaching circles and has a long history of providing tutelage and discipline to players — many from disadvantaged communities — just beginning their basketball-playing journeys.
"She always demanded you play hard. If you lost and gave up, to her that was like, 'Where is your pride? Where is your killer instinct?' " said Camry Green, a former Albert Hill player who now is the starting center on the Christopher Newport University women's basketball team. "She demanded excellence on and off the court from her players.
"She taught me basketball when I started playing in the sixth grade," Ms. Green added. "She always stressed the fundamentals to all her players. And she really cared about us as people. She really helped me after my grandmother died my freshman year in high school."
King Salim Khalfani, a former state NAACP executive director who now has a consulting business, kept statistics at Virginia Union University basketball games when Coach Drayton played there as a student. He said he has seen her touch the lives of countless young people on and off the court.
"She has had a positive impact on hundreds, if not thousands, of young people already," Mr. Khalfani said.
When news of her stroke circulated, several of her former players stepped up to help. Former Albert Hill players Takiyah Carter and Bianca Cox-Perkinson, former George Wythe player Janee Stephens and Coach Drayton's son all assisted Coach Ellegood in her absence.
She may learn from her neurologist next week if she can return right away to coaching.
"I miss it a lot. I really do," the coach said.
"But, I've learned to listen to what my body tells me, get more rest and maybe slow down a little bit. I also talk a little more softly than I used to."