High schooler named MVP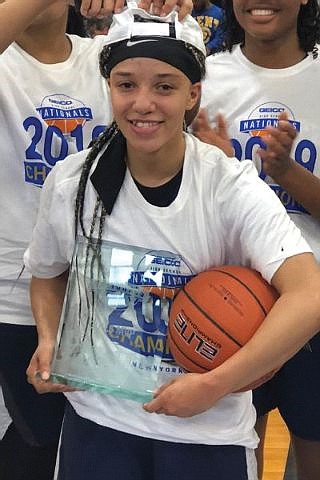 Jada Walker's first basketball season playing away from home couldn't have gone more smoothly.
The sophomore was named MVP after leading New Hope Academy of Landover, Md., to the Geico Girls National Tournament in New York on April 6.
Walker played her freshman season at Highland Springs High School, earning first team State 5A honors. She transferred to New Hope Academy this season.
Basketball runs in her family. She is the daughter of Virginia Union University Lady Panthers Coach AnnMarie Gilbert and former VUU standout Jonathan Walker, who served as a volunteer assistant coach this season for New Hope Academy.
A 5-foot-6, left-handed guard, Walker scored nine points in New Hope's 45-34 victory over St. John's of Washington in an event held at Christ the King Regional High School in Middle Village, Queens.
In addition to her offensive contributions, Walker was essential in holding St. John's Azzi Fudd in check. Fudd, who was named national player of the year by some scouting services, scored 14 points but was only 5-for-19 from the field and 0-for-6 from behind the arc.
New Hope finished the season 40-3 under Coach Sam Caldwell, whose teams at Riverdale Baptist School in Upper Marlboro, Md., won girls' national titles in 2012 and 2014. This was just the second season for girls' basketball at New Hope Academy.
Walker averaged about 22 points during the regular season for New Hope. The team played in events in Dallas and Phoenix.  
At Highland Springs High School in Henrico County, Walker averaged 19 points, six rebounds and five assists as a ninth-grader for Springers Coach Franklin Harris.
According to ESPN Evaluations, Walker is rated as the 25th best player in the nation overall and seventh among point guards in the Class of 2021.
New Hope Academy is not a boarding school and Walker is not living in that area. Walker and her father commute to the school daily.
As for Walker's high school future, Gilbert said there's a possibility her daughter will be returning to Highland Springs High School.
Walker's college recruiting remains wide open, although her mother said "she's got a full ride to Virginia Union sitting on the table."
"I'd love to see her lead the Panthers to the national championship," Gilbert said.