Update: Khloe 'Texas Tornado' Pointer wins state cross-country title
Fred Jeter | 11/18/2014, 6 a.m.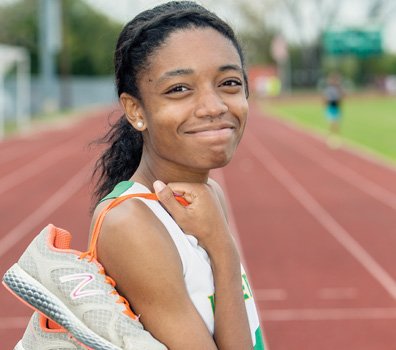 Update: Khloe Pointer put the finishing touches on her superb sophomore season by winning the State 2A cross-country title Friday, Nov. 14, at Great Meadows, near Warrenton.
The Maggie Walker Governor's School standout covered the 5K course in 18:47, with her Green Dragons' teammate, Emma Call, second in 19:08.
Maggie Walker easily won the girls' team title for the second year in a row.
Original story below:
Khloe Pointer goes and goes and goes. Then she goes some more.
Batteries run down. Gas tanks empty. Electricity can shut down. Meanwhile, the shooting star that is Pointer only "turns off" after crossing finish lines — usually well ahead of the pack.
In cross-country romps over hill and dale, the 15-year-old Maggie L. Walker Governor's School sophomore combines a tireless stride with a fierce competitive spirit that belies her petite 5-foot-4, 102 pounds.
"Obviously, Khloe has a lot of natural talent," says venerable coach Jim Holdren. "She's also a tremendous competitor. She doesn't like to lose."
Assistant coach Deborah Snagg puts it like this: "Khloe is tough. She trains hard and competes hard. She puts it out there."
Veronica Pointer offers this observation of her gifted daughter: "Khloe's very driven. Once she makes up her mind to do something, it's full throttle."
The story of Maggie Walker's "Texas Tornado" starts in Arlington, Texas, a Dallas suburb, when 6-year-old Khloe Pointer joined a first grade running club.
Right away, she discovered she was more a long-distance runner than sprinter.
"I found out I wasn't very good at the short runs. The longer the better," she recalls.
Because of a job transfer, Victor and Veronica Pointer moved their family from the heart of Texas to western Chesterfield, in the Clover Hill district in 2006.
Khloe attended Jacobs Road Elementary and the Center-Based Gifted program at Manchester Middle before applying to and earning acceptance at Maggie Walker.
At Manchester Middle, she did not run cross-country, but flashed potential at 800 meters, finishing in the top 10 at the county track meet.
It was in August 2013, just prior to her freshman season at Maggie Walker, that she shifted into a higher gear during "Captain's Runs" at Byrd Park.
"I was out of town," recalled Holdren. "But I recall (assistant Ryan Webb) telling me, "This Pointer girl looks like she can be real good."
Still, no one could have predicted her glossy ninth grade achievements, starting with second overall (18:59) in the state 2A meet, just behind senior teammate Daisy Banta.
During the indoor state track meet, she was second in the 1,600 meters in 5:19.5; at the outdoor state meet, she was fourth in the 800 meters (2:20.5).
This season, Khloe has revved it up a few notches.
Running consistently under 19 minutes, she was first overall in the Colonial District meet at Patrick Henry High, at the Newport News Invitational, the William & Mary Invitational and the Big Cat Invitational in Williamsburg.
She set a personal record 18:26 in a meet at Hermitage High School. Her goals include breaking the Maggie Walker Governor's School sophomore record of 18:19 held by Rachel Galton.