Armstrong Wildcats pounce on Varina
Fred Jeter | 10/10/2014, 6 a.m.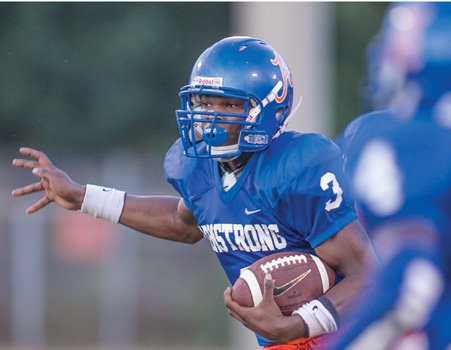 The metamorphosis is complete. Armstrong High School football has gone from powder puff to powerhouse.
Any lingering doubts about the Wildcats' status upgrade were erased after last week's 46-24 rout at Henrico County's Varina High School, when Armstrong thwarted the Blue Devils' homecoming.
"We turned it into our homecoming," Armstrong coach Kedrick Moody said in a friendly manner. "We got crowned 'homecoming kings.'"
Varina had won its previous 28 meetings, mostly by lopsided margins.
Averaging 45.6 points per game, Moody's explosive Wildcats will entertain Highland Springs High School 7 p.m. Friday. It will be a collision of the 5-0 juggernauts.
"The atmosphere will be awesome, electric," said Moody. "It's the game of the week in the area. The place will be packed."
The evening's festivities will begin with the "Wildcat Walk." Armstrong players, cheerleaders and the band will parade through the surrounding neighborhood, building excitement.
History could be made. The Wildcats have never defeated the Springers — at least as far back as Armstrong records have been kept.
It also will be the first time Armstrong has been featured on Richmond's 910 Sports Radio.
The battle of the unbeatens is arguably the biggest game the Wildcats have prepared for since the legendary Armstrong-Maggie Walker Classic played from 1939 through 1979.
Since the start of the Virginia High School League playoffs in 1967, Armstrong never reached a postseason game until year ago, when it squeaked into the Region 3A East playoffs with a 3-8 record.
This season, there should be no "squeaking" in.
The Wildcats are in line for a high seed and first-round home game.
Heroes wearing blue and orange abound on Armstrong's Cool Lane campus.
Quarterback De'Shaun Waller rolled up 238 total yards against Varina, rushing for 124 yards, passing for two touchdowns — to Anthony Freeman and Devonte Jackson — and making five tackles on defense.
"De'Shaun played like a man among boys," said Moody. "He's one of many who willed us to victory."
Nigel Chavis tallied touchdowns on 51- and 44-yard runs and a 74-yard fumble return. Andre "Truck" Mack crossed the goal line on a 4-yard run and a 27-yard fumble return.
Larry Anderson and Kyle Jacobs have been stalwarts defensively.
Moody, who serves as a counselor in the Hopewell school system, arrived at Armstrong three seasons ago after stints as an assistant coach at New Kent and Petersburg and with the Virginia Vipers semi-pro squad.
His East Enders have gone from 2-8 in 2012 to 3-7 last year to the current 5-0. Between 2006 and 2011, Armstyrong was a combined 13-46.
How things have changed!
In order this fall, Armstrong trounced Thomas Jefferson 43-6; John Marshall, 50-20; Colonial Heights, 53-8; and Glen Allen, 36-21.
Then came the all-time head turner — the upset of Varina, a perennial region/state contender.
"We'll just continue to do what we do," said Moody. "We're not going to get beat by someone's reputation anymore. We don't look at the name on their jersey. We just look at them as another group of players that we will attempt to exploit."
Realizing how quickly his Wildcats have climbed the pecking order, Moody does concede this:
"We're in foreign territory."