Family relapses into system
Mother, son in jail at same time; they want to break cycle
Patricia Hicks passed her son on her way to a worship service earlier this month.
Sherod Jones blew his mother a kiss, crossed his heart and mouthed the words, "I love you."
While she could not hear what he said, the gesture still meant the world to her.
"It showed me that he still cares about me," Ms. Hicks said, wiping away tears.
The mother and son were separated by the walls and windows at the Richmond Justice Center in Shockoe Valley.
Both Richmonders are being held in the new city jail.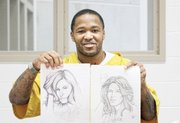 She went to trial on burglary and larceny charges Wednesday. He is awaiting transfer to prison after a robbery conviction.
Ms. Hicks said she, her son and other family members have spent much of their adult lives behind bars for crimes mostly related to their drug addictions, mental health problems and poverty-related issues.
Rarely have the mother and son shared good times.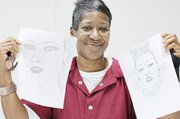 "When I see my mom locked up here, it's not shocking to me," Mr. Jones told the Free Press in recent separate interviews with the mother and son at the jail. "I'm used to seeing my mom locked up. We've never spent what I would call normal time together like a mother and son would.
"I wish I could have taken her out to dinner more, gone to the movies or talked to her about issues that have bothered me. But we're more like Bonnie and Clyde, like convicts together."
The two share a love of sketching their anger, despair and hope on paper.
They shared their work with a Free Press reporter and photographer.
Their work shows a struggle with drugs and family dysfunction and a wish for faith, love and hope.
The mother and son's sad story is not unusual in disadvantaged neighborhoods, local experts said, particularly among the African-American community that is disproportionately targeted, arrested, convicted, incarcerated and placed under strict oversight once they leave prison.
Thousands of African-Americans become embedded in the criminal justice system and often become conditioned to living behind bars.
About 90 percent of the current inmate population at the Justice Center is African-American, according to jail spokesman Jerry Baldwin, in a city with a population that is 50 percent black.
Data show that about 40 percent of the almost 2.1 million men in prison across the country are African-American, while African-American males comprise about 12 percent of the civilian population.
Sarah Scarbrough directs programs at the Justice Center designed to give inmates tools to succeed after their release. She described the conditioning of families and communities ensnared in the criminal justice system.
"Generations and generations get involved with the system and don't make it out," she told the Free Press. "They are so comfortable behind bars that they are literally scared to get out, and do what they can to stay in sometimes."
Ms. Scarbrough told of a longtime prison inmate who performed a gratuitous sex act in front of the parole board because he was afraid to leave the comfort zone he knew in prison.