Players of color in Flying Squirrels lineup
Fred Jeter | 4/16/2015, 9:29 a.m.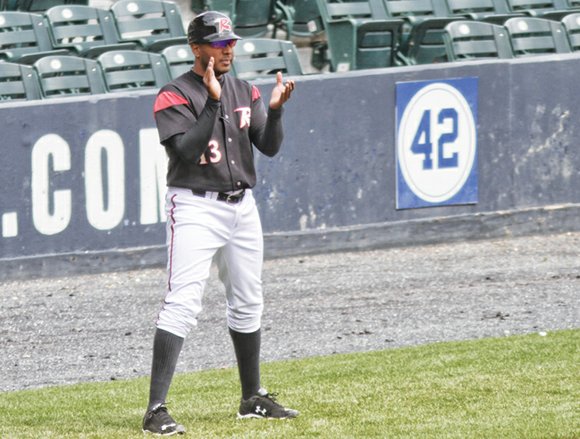 By gallantly breaking baseball's color line, Jackie Robinson opened doors for talented young athletes not only in America, but everywhere.
Since April 15, 1947, the date Robinson debuted with the Brooklyn Dodgers, doors have swung open at baseball organizations from New York to Chicago to Los Angeles to include players of color.
The diversity of talent was visible on April 15 in Richmond, where the Flying Squirrels celebrated Jackie Robinson Day-Education Day at The Diamond and took on the visiting team from Altoona, Pa.
The Squirrels, the Eastern League farm club of the World Series champion San Francisco Giants, have no African-American players.
But players of color fill the lineup card of manager José Alguacil, a Latino from Venezuela.
There are several Afro-Caribbeans on the Squirrels roster:
José Casilla, Joan Gregorio, Kelvin Marte, Adalberto Méjia and Angel Villalona from the Dominican Republic; Pedro Rodriguez, Javier Herrera and Pedro Rodriguez from Venezuela; and Daniel Carbonell from Cuba.
If you were to discover a snapshot of Richmond's pro baseball team prior to 1947, no people of color would be pictured.
If gifted enough to earn a pro contract in the United States, players of color from outside the country would have been steered to the Negro Leagues.
That all changed with Robinson.
And then with Cuban Minnie Minoso, who became the first black Latino in the major leagues when he broke the color line with Cleveland in 1949.
Currently, more black Latinos are appearing on big league rosters.
Only about 9 percent of big league players are African-American, down from a high of 19 percent in 1987.
However, about 27 percent of big leaguers were born in foreign lands, mostly in the Caribbean, where historically millions of Africans were mercilessly shipped during the trans-Atlantic slave trade.
Starting this baseball season, there were 83 Dominicans, 63 Venezuelans and 18 Cubans on opening-day rosters, thanks to the barriers broken by Robinson. 
Jackie Robinson Day is celebrated at ballparks nationally every April 15, with major league players, managers, coaches and umpires wearing his iconic "42."
The Robinson "42" emblem, on display at The Diamond, is in blue, gray and white — the colors of the Brooklyn Dodgers' uniforms in 1947.
Baseball began recognizing Robinson Day in 2004. Players began wearing No. 42 in 2009.
No incoming player will ever wear No. 42 again, in honor of Robinson. The last player to wear that number was New York Yankees' relief pitcher Mariano Rivera, who retired two seasons ago.
Richmond has its own claim to fame in taking a wrecking ball to bigotry. The first black American Leaguer was outfielder Larry Doby, who joined the Cleveland Indians just 13 weeks after Robinson's Brooklyn debut.
Doby played basketball — but not baseball — at Virginia Union University in 1942 before launching his pro baseball career with the Newark Eagles of the Negro National League later that same year.