Sophomore Taya Robinson drawing collegiate interest
Fred Jeter | 2/12/2015, 9:32 a.m.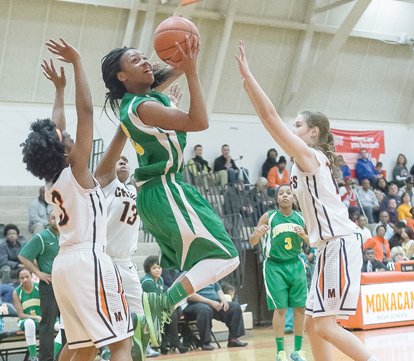 Now there are two good reasons to visit Huguenot High School — to eyeball the sparkling new school and to observe the Falcons' sophomore basketball star.
Few glow brighter with a basketball in her hands than Taya Robinson, a 5-foot-10 tower of talent who has drawn nationwide recruiting attention.
According to ProspectsNation. com, a recruiting service, Taya is the ninth-rated player in the United States overall and ranked No. 4 nationally among wings (guard-forward combo) in the Class of 2017.
"I get a couple phone calls every day and lots of emails," said Huguenot coach Bo Jones Jr. "They ask about academics and social skills before they even get into the basketball.
"Of course with Taya, they like everything they hear."
They appreciate the skills they see on the court, too.
On the day this interview was conducted, Hernando Planells, Duke University's assistant coach, dropped by the Forest Hill Avenue high school just for a peek. In accordance with NCAA regulations, college coaches are not permitted to initiate contact with sophomores.
According to Jones, Tennessee, Auburn, Penn State, James Madison, Central Florida and Virginia Commonwealth University representatives have attended Falcons' games or practices this winter.
"Many of the smaller schools back off once they hear who's recruiting her," said Jones.
Taya, who is nicknamed "DJ Bubble Gum," resides with her parents, Eleanor and Mark Robinson, in South Richmond.
The Robinsons and Joneses have an athletic history.
Mark Robinson played football and basketball at Huguenot High School when Jones' father, Bo Jones Sr., was head coach and Jones was just a ball boy. Mr. Robinson went on become an All-CIAA defensive back at Virginia State University. He later was head football coach at Armstrong High School, where he currently teaches algebra.
Taya recalls cheering for her dad's Armstrong Wildcats' football teams. "The first sport I ever wanted to play was football," Taya said with a friendly giggle. "I wanted to be the quarterback.
"It wasn't until my father told me that wasn't going to happen that I got into basketball."
Taya actually attends Richmond Community High School on North Side and commutes to Huguenot via school bus each afternoon.
Because Community High has no athletics, students are allowed to compete for their "neighborhood school," which is how Taya made the Huguenot team. An excellent student, her classes includes Advance Placement Chemistry, 11th grade English, World History II, Pre-Calculus, Art and Driver's Ed.
But no license is required for the kind of "driving" Taya does on the hard court.
"Taya likes to drive — right or left. She's at her best taking it to the basket. That's her game," Jones said.
As an eighth-grader at Lucille Brown Middle School, Taya averaged 28 points for Huguenot's junior varsity.
Last season as a varsity freshman, her 28-point average included a 41-point explosion in a state semifinal victory at Lafayette High School in Williamsburg.
Ninth grade accolades included Conference 26 and Region 3A East Player of the Year and first-team 3A All-State.
There has been no tapping of the brakes.