VSU hit in state auditor's draft report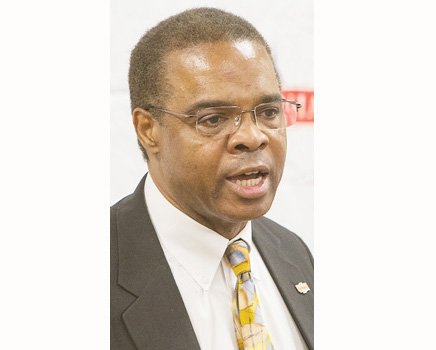 Virginia State University is facing unexpected financial challenges as a result of sloppy management during the tenure of former President Keith T. Miller, according to a draft of a state audit of the school's spending during the fiscal year that ended June 30, 2014.
VSU might have to shell out $1.6 million a year to the company that provides cafeteria meals, Thompson Hospitality, because far fewer students are paying for meal plans than the university agreed to pay Thompson to provide.
According to the draft from the state Auditor of Public Accounts, Dr. Miller, who resigned last fall, and his staff optimistically projected big growth in the number of students paying for meal plans at a time when enrollment was starting to fall sharply.
In 2014, the school signed up an average of 2,200 students per semester for meal plans. However, a multiyear contract Dr. Miller signed with Thompson includes VSU's agreement to pay for 2,800 meal plans per semester whether or not that many plans were sold to students.
The auditors noted that VSU did not conduct any analysis to determine if it could meet the 2,800 goal for which it is on the hook.

The draft report also suggests that VSU might have to sharply raise student fees to prevent red ink from engulfing the $84 million convocation center that Dr. Miller began building and which is expected to open next fall. The auditor noted that the university would need to beef up financial support of the center if 2012 projections prove correct and the center fails to generate enough revenue to cover its operating costs.
The draft report also found VSU is accumulating too little money to cover campus maintenance needs. As of 2014, VSU built up $5 million in deferred projects.
Among a host of other findings, the draft report states that Dr. Miller and his staff flouted procurement rules in awarding contracts. The staff included David J. Meadows, VSU's former chief financial officer, who left earlier this year to become executive vice president, chief of staff and treasurer at Governors State University outside Chicago.
The report points to 56 sole-source contracts that Dr. Miller's administration awarded. Almost all of the contracts were out of compliance with the state's purchasing rules, the report states. Among other problems, VSU never checked the fairness of the prices its contractors charged and might have paid more for goods and services than it should have.
In addition, VSU awarded three emergency contracts that did not meet standards.
Meanwhile, Dr. Miller agreed to pay $40,000 a month to an information technology firm, Ellucian, to manage its computer operations. VSU has not required the company to comply with the state's computer security standards.
VSU also "violated all procurement standards," according to the report, in awarding a $135,000 contract to Solutions4Change, a business consulting firm. The company has not been required to document the specific services and results it has provided, the draft report states.
That's also the case for enrollment management firm Royall & Company that VSU agreed to pay $725,775 to aid in recruiting students, the report states. The contract "does not have clear deliverables," the report states, meaning the company did not offer a clear explanation of the services it would provide. Even worse, auditors found that the provost, Dr. W. Weldon Hill, was unaware he was supposed to manage the contract and monitor the company's work.
Interim VSU President Pamela V. Hammond has not yet issued her response to the report. She is to meet with the state auditors Friday to offer her views before the draft becomes final.
"The report that has been made public is a draft that contains a number of unsubstantiated findings," VSU spokesman Tom Reed stated in an email response to the Free Press.
He expressed disappointment that the report was provided to the Free Press and other media because the "finished report may present a different set of conclusions."